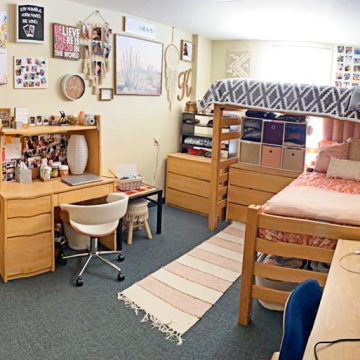 Kolstoe Hall
Double - $1942.50* per semester

Kolstoe Hall was remodeled during the 2003-2004 school year. This 114 bed coed residence hall is located in the center of campus. This suite style complex is state of the art with private bedrooms and bathrooms. Suites are rented as 4 people suites mainly to upperclassmen. All rooms are carpeted and include window coverings. Kolstoe also offers a recreation room, fitness room, big screen TV and kitchenette on the first floor, along with study lounges and laundry facilities on each floor. Kolstoe Hall also provides students with the luxury of central air conditioning.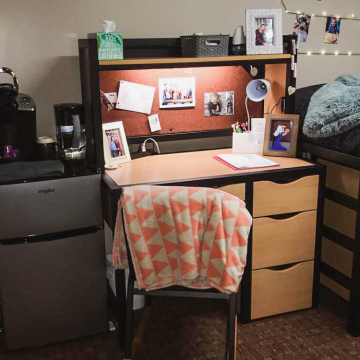 Snoeyenbos Hall
Single - $2292.50* per semester
Double - $1942.50* per semester

Snoeyenbos Hall is a suite-style residence hall that opened in the fall of 2011 after a year's worth of renovations. The first floor of this residence hall is home to two large lounges with flat-screen televisions. A pool table is located in one of the lounges while the other lounge has dining seating and is located next to the kitchen. As residents travel the halls of the first floor, they will also find a fitness room, laundry facilities, as well as recycling areas. The upper floors of Snoeyenbos Hall can be reached by one of the two stairwells or the elevator. Each upper floor has laundry facilities, a study lounge, a TV lounge, recycling rooms, laundry rooms, and a kitchenette. These suites accommodate five residents, who share private bathroom facilities, in the two double rooms and one single room.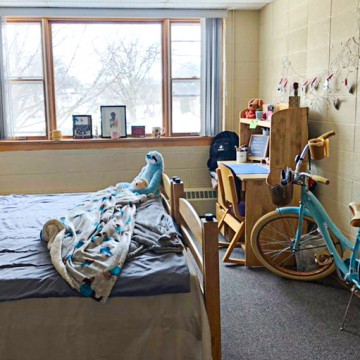 McCoy Hall
Single - $1782.00* per semester
Double - $1271.50* per semester

McCoy Hall is a 58-room female residence hall. All rooms include carpeting and window coverings. McCoy offers a big screen TV, pool table, and kitchenette on the first floor.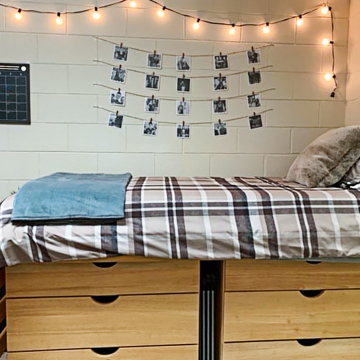 Robertson/Mythaler Hall
Single - $1782.00* per semester
Double - $1271.50* per semester

Robertson and Mythaler Halls are residence halls for male VCSU students. These two halls are in a great location, located centrally on campus. Amenities included in these halls are community restrooms, full kitchenette, lounges on each floor, fitness room in Mythaler Hall, and free laundry. Robertson and Mythaler have undergone many upgrades over the last year, some of which include a new kitchen/study area in Mythaler Hall, new flooring in shower areas, updated windows, and new lounge furniture.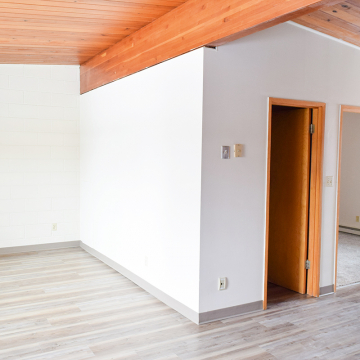 Student Apartments
Viking Court, formally known as VCSU Married Housing, became available to all students in Spring 2006. These 2 bedroom, 1 bath apartments are close to campus and also are complete with internet, cable and air conditioning. In order to qualify for a university apartment, students must have earned at least 60 semester hours of credit or be 21 years of age. Exceptions to the requirements will be made for married or single parent students. Unmarried students must be of the same gender and both occupants must be currently enrolled VCSU students. Both students will sign as leaseholders. These student apartments are $450 per month.