Forward Together
A lifetime of giving…
Apr 26, 2021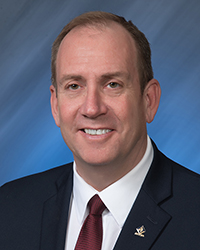 As you likely know, VCSU is embarking on its first ever capital campaign for the benefit of our students, campus and community. The campaign has already seen excellent early success with gifts and pledges of nearly $2 million. One of our significant early gifts came from Valley City resident, Ray Braun. The following article is a reprint from the April 2021 issue of The Bulletin, a publication for alumni and friends of VCSU.
Ray Braun's impact on Valley City State University has been years in the making. From monetary gifts to volunteer work, Braun has continually shown strong commitment to VCSU since making the Valley City community his home.
After 60 years of ongoing support, Braun recently gifted a $1 million life estate to VCSU in support of the university's first ever capital campaign. It is the first major gift of the $25 million capital campaign – titled Forward Together – which includes expansion of VCSU's athletic facilities, renovations of campus buildings, and increased scholarship support.
Braun's gift will directly support student scholarships for years to come, says Larry Robinson, the VCSU Foundation's Executive Director for Advancement.
"Ray's commitment to VCSU has been exemplary," Robinson said. "He has given of his time, talent and treasure for more than 60 years. His generosity speaks volumes of his desire to constantly give back and advocate for our university. We are most appreciative and thankful for his support. He has clearly impacted generations of students."
Braun was a key player in the establishment of the VCSU Foundation in 1996, and he has been central to its success over the subsequent 25 years. This year, the Foundation allocated a record $1.86 million in student scholarships.
"This community and this university mean a lot to me," Braun said when asked about his contributions over the years. "It is a great feeling to be able to give something back."
Along with playing a major role in establishing the VCSU Foundation Board of Directors, Braun also helped create the Foundation Investment Committee. He has been a long-term member of the Viking Century Club and is a regular in the stands at VCSU football and basketball games, cheering on the Vikings.
In 2011, Braun was recognized with the VCSU President's Distinguished Service Award – the highest honor that the President can bestow – for his exemplary contributions and ongoing support of Valley City State University. He is one of just 25 individuals to receive the honor.
Braun spent his working career as a managing partner of Ludvigson Braun and Company, a CPA firm in Valley City. The business provided a variety of accounting and financial services, including tax preparation, audit representation and payroll reporting. The firm was recently transferred to new ownership, and for the last several years Braun has served in an advisory capacity.
Born and raised at Strasburg, N.D., Braun attended Dakota Business College and the University of North Dakota. After making his home in Valley City, he became actively involved in the Valley City community, including Saint Catherine's Church, Reach (Religious Educators Advancing Christian Heritage), the Chamber of Commerce and the Valley City-Barnes County Development Corporation.
Braun is a director with TRI W-G Inc., a medical equipment manufacturing firm in Valley City. He also serves as a board member of the Sheyenne Valley Foundation and a director of the Dakota Real Estate Investment Trust in Fargo, N.D. With various other commercial real estate interests in the community, Braun's roots in Valley City continue to run deep.
He is the proud father of three children, John (VCSU '94), Chris, and Rae Marie, and has eight grandchildren.
We thank Mr. Ray Braun for his generosity in providing this substantial lead gift as we begin our campaign.
Thank you, Ray, and Go Vikings!