Campus & Facilities
Self-Guided Campus Tour
The central campus is listed on the National Register of Historic Places as a Historic District, and in May 2017, BuzzFeed named VCSU's campus the most beautiful college campus in North Dakota.
Campus Map
Download a copy of our updated campus map for your own use, or pick up a printed copy at our Enrollment Services office in McFarland Hall.
Open the full map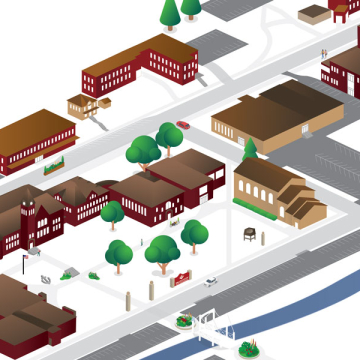 Community + Campus
Valley City State University has been a part of the Valley City community since 1890, and that partnership has led to multiple campus collaborations.
Gaulker Wellness Center

Gaukler Wellness center

The Gaukler Family Wellness, Health and Physical Education Center is the fitness hub of campus. As a student, your membership to the Wellness Center is included in student fees.

Learn more

Medicine Wheel

Medicine Wheel Park

A unique and scenic landmark on VCSU's campus, Medicine Wheel Park began as a class project in 1992. Since then, it has evolved into a hallmark of the community, encompassing 30 acres, and providing an educational and recreational destination for visitors of all ages.

Learn more or schedule a visit

President's House

President's House

This beautifully preserved Victorian home was built in 1901, and from 1921-1993 served as the home for the VCSU Presidents and their families. VCSU is now pleased to offer the President's House as a Guest Inn facility.

Schedule a stay today
Self-Guided Campus Tour
McFarland Hall was constructed during the summer and fall of 1892, under the supervision of Miss Emma Bates, instructor in mathematics and reading, who was appointed interim principal after the first president, J.W. Sifton, took a train west.
George McFarland, originally from Ohio and most recently an instructor at Madison State Normal (South Dakota), began work at Valley City Normal in August 1892. The original title of "principal" was officially changed to "president" in 1906.
The building was completed by December 1892, at a cost of $26,220. It was built of red pressed brick and trimmed with Duluth brown sandstone, and included the library, assembly room, cloakroom, principal's office, and recitation rooms. From its inception, the building reserved space for a training school, which accepted children in kindergarten through high school, in order to provide Normal School students with practice-teaching opportunities. As early as 1893, the training school included a kindergarten, one of the first in the region.
The building as we know it today has two wings. The west wing was completed in 1904. It was originally called Science Hall, and housed the expanded library, science, geography, English, and history classrooms, a manual training room, and on the third floor (which is now called the fourth floor), a gymnasium.
The east wing was completed in 1906 as the Model School, with space for all grades, a gymnasium, manual training room, and critic-teacher accommodations. This area was used for grades K–6 until 1965, when the Model School was closed. Today Enrollment Services, the Registrar, and the School of Education have their offices in this wing.
McFarland served as president from 1892–1918. Many consider him the "father" of the college. He left behind a campus of nine buildings, and enrollment growth from about 20 students to over 500. His impact on higher education in North Dakota continued, as he was asked to lead the newly established Minot Normal from 1922 to his death in 1938. In 1953, Old Main was named McFarland Hall, in recognition of his contributions to the field of education and his tremendous work in securely establishing two institutions of higher education in North Dakota.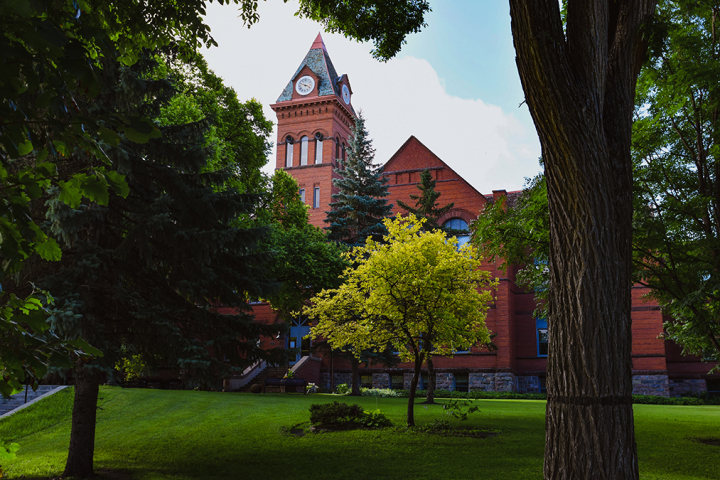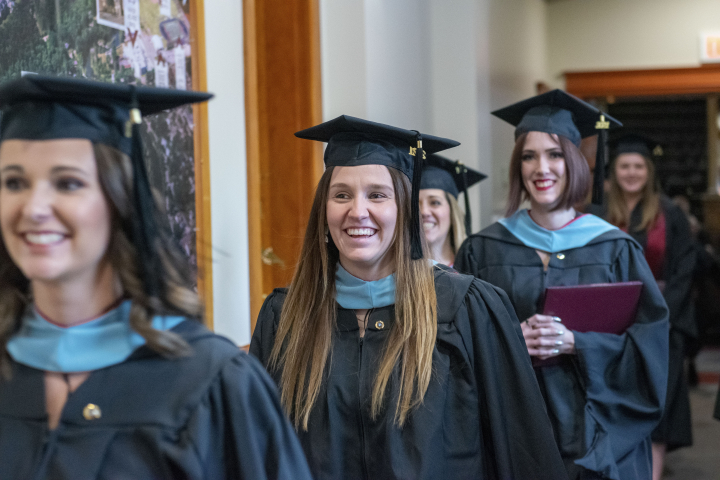 Rhoades Science Center is VCSU's second-most expensive building, having undergone a $10 million renovation in 2013. Its classrooms and laboratories are filled with state-of-the-art scientific equipment, and lab-based classes are often split to ensure greater faculty attention.
VCSU houses North Dakota's only planetarium, on the 3rd floor of Rhoades Science Center. It hosts different events throughout the year, that are free for students and open to the community.
Programs housed in Rhoades Science Center include: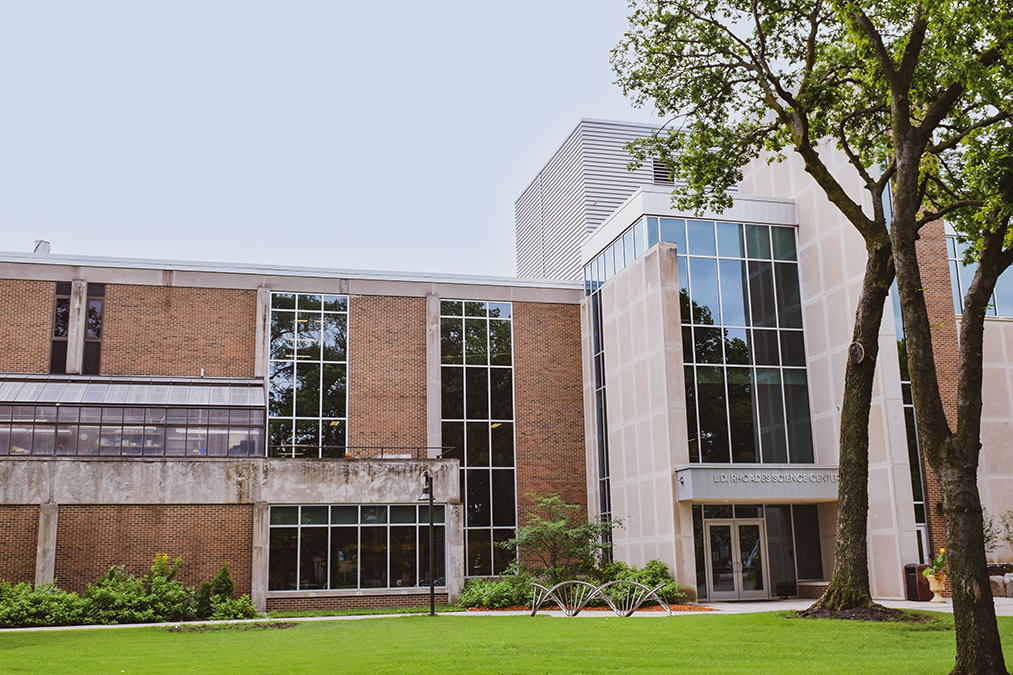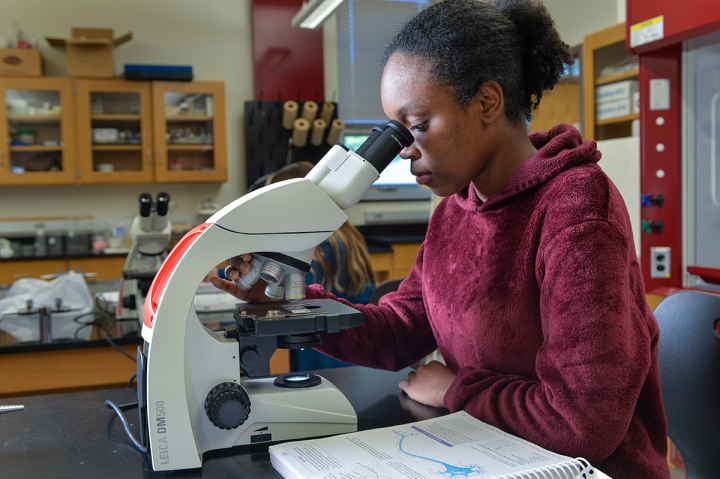 Named for the Vangstad Twins (Lena and Thilda Vangstad, long-time faculty at VCSU who retired in 1971) Vangstad Auditorium was built in 1907. Construction was completed with a $40,000 budget supplemented by money raised through college theatre performances, which paid for the stained-glass windows and statues in the auditorium.
Vangstad has a space set aside for Business faculty, just at the top of the stairs. This department teaches Business students practical skills about marketing, finance, management, and administration.
The Marketing and Communications Office is housed in the basement of Vangstad Hall.
---
The following was written by former Vice President for Academic Affairs Dr. Margaret Dahlberg, who wrote a feature column about the Auditorium during her time as interim president in 2018. 
The auditorium was finished on the last day of winter term, 1908, and once again, the entire school could meet together for general exercises. The student body at this point numbered about 600. "The Bulletin" reported that "No normal school in the country possesses a handsomer or finer assembly room," noting its dome, stained glass windows, seating and lighting as "excellent." In the following year, the lower two floors were completed, adding eight new classrooms.
The statues and stained glass windows in the auditorium were purchased with proceeds from a series of entertainments directed by Miss Amidon, one of the seven faculty members in 1907. She and Miss McGregor (English faculty) planned the designs for the windows to the rear of the stage. The window on the left symbolizes music; the one on the right, oratory. The central panels of "Hope" and "St. Cecelia" were selected by Miss Amidon, Miss McGregor, and Mrs. McFarland. Miss Amidon also arranged for the statue of Apollo to the right of the stage.
In 1971 the auditorium within the building was named Vangstad Auditorium to honor Lena and Thilda Vangstad, long-time faculty at VCSU who retired in 1971. Since then, the building itself has come to be known as Vangstad Auditorium.
Lena and Thilda were twins, born in Osakis, Minn., in 1901. Lena earned a Bachelor of Science in teaching and a Master's degree at the University of Minnesota; she also did graduate studies at the University of Chicago, the University of California Berkeley, and the University of North Dakota. She came to Valley City State Teacher's College in 1937 to teach in the Department of Education.
Thilda, born five minutes before her twin sister, taught at Langdon High School (Langdon, N.D.) and Crookston High School (Crookston, Minn.) before joining her sister, Lena, at Valley City State Teachers College in the role of principal of the College Model High School (1945). When the College High School closed, Thilda then became a member of the Social Science Department.
When they retired, the sisters returned to their family home in Osakis. In 2005 they were designated the oldest living pair of twins in the world at the age of 104. Thilda died in 2006 and Lena died in 2007 ("The Osakis Review").
In 2015, the building was renovated to update the basement and first floor, and refresh the paint, ceiling, and plaster in the auditorium. Currently the Business Department offices and classrooms. It continues to be a beautiful building that promotes teaching and learning, a fitting tribute to two women who gave many years of their careers in support of VCSU and our students.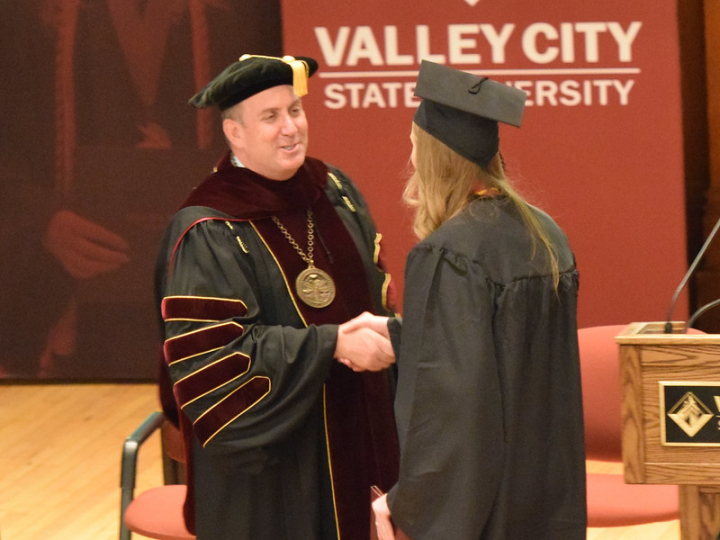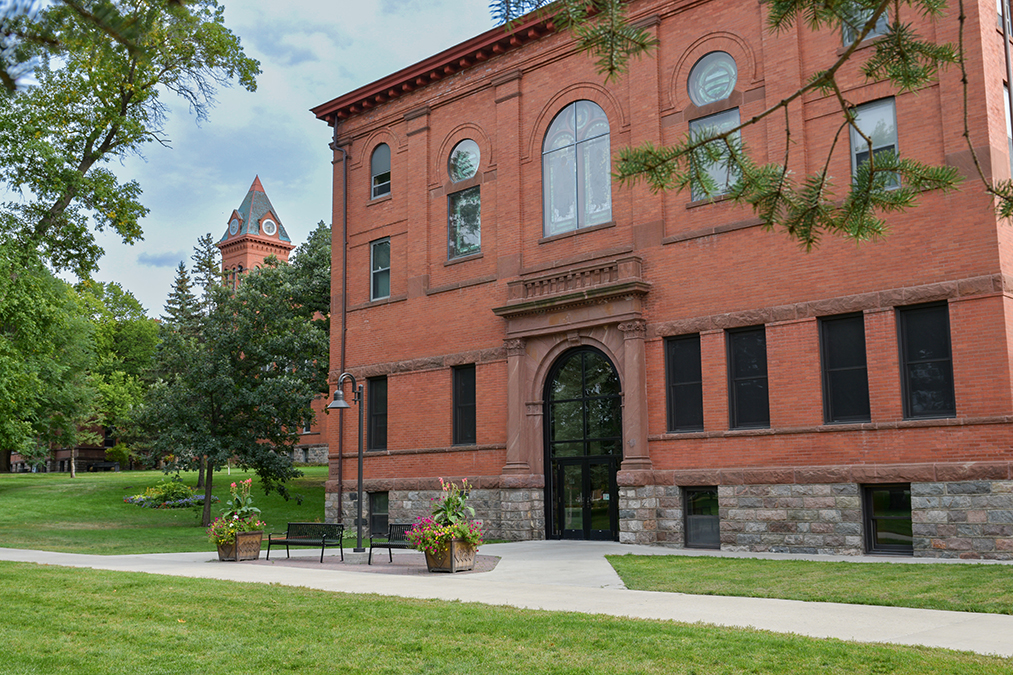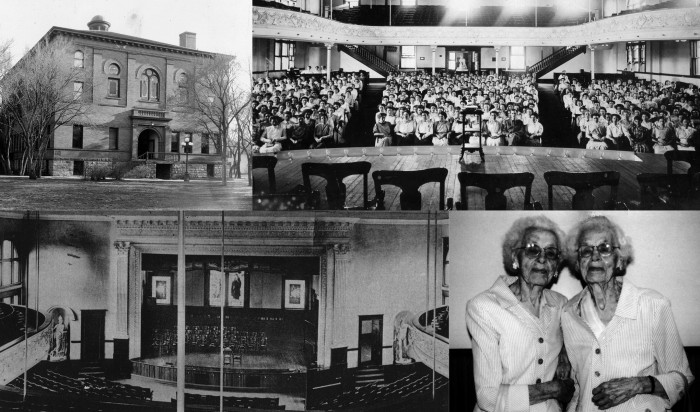 The university's library is located at the heart of the VCSU campus, between McFarland Hall and the Student Center. Databases, streaming video and music, ebooks and other digital resources are online and accessible 24 hours a day, and resources and services such as physical books, access to printers, 3D printing and other equipment, and in-person reference assistance are available during regular library hours. The library offers building-wide WiFi, meeting areas and small-group study rooms, a silent study area, a Makerspace and classroom spaces. Group Study Rooms can be reserved online from the library website.
Allen Memorial Library was named after Carlos Eben Allen, the 3rd president of Valley City State University, and opened its doors in 1951. It presently houses more than 100,000 books, periodicals, microforms, and nonprint materials, and maintains a robust digital collection. The collection's strengths reflect the curricular strengths of the university: education, business, information science, the arts, as well as general science, mathematics, humanities and social sciences.
Though there are three main levels to the library, there are actually four levels of books that the rest of the library wraps around. These levels contain the vast majority of the library's collection, and whatever can't be found there can be procured through inter-library loans.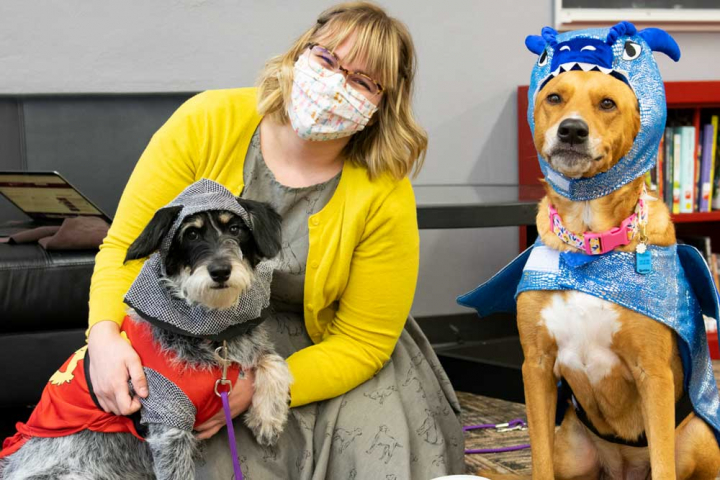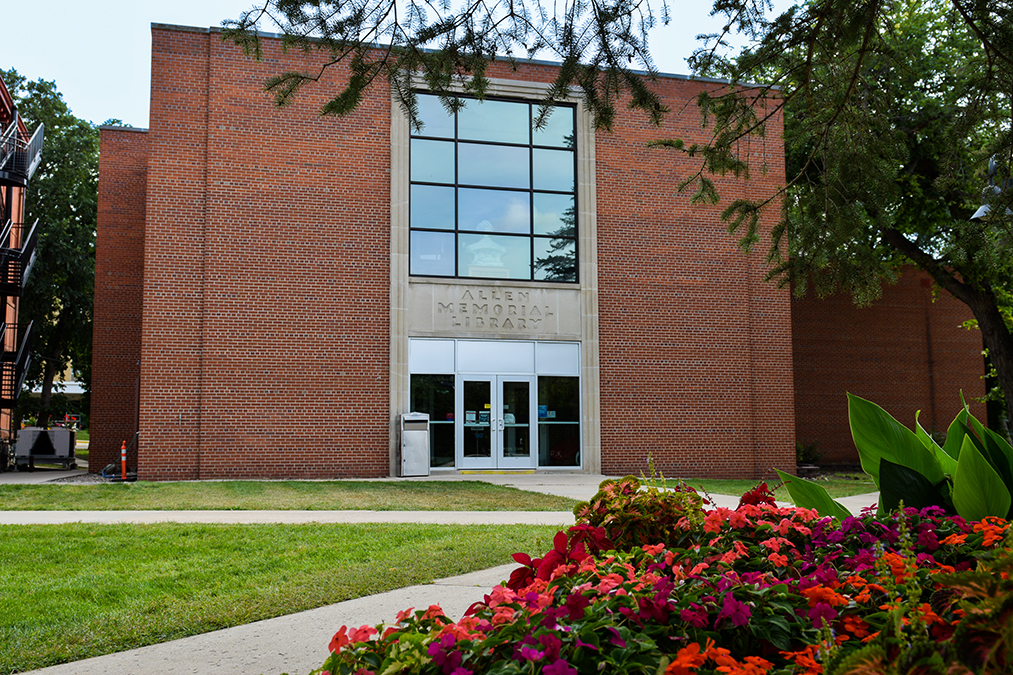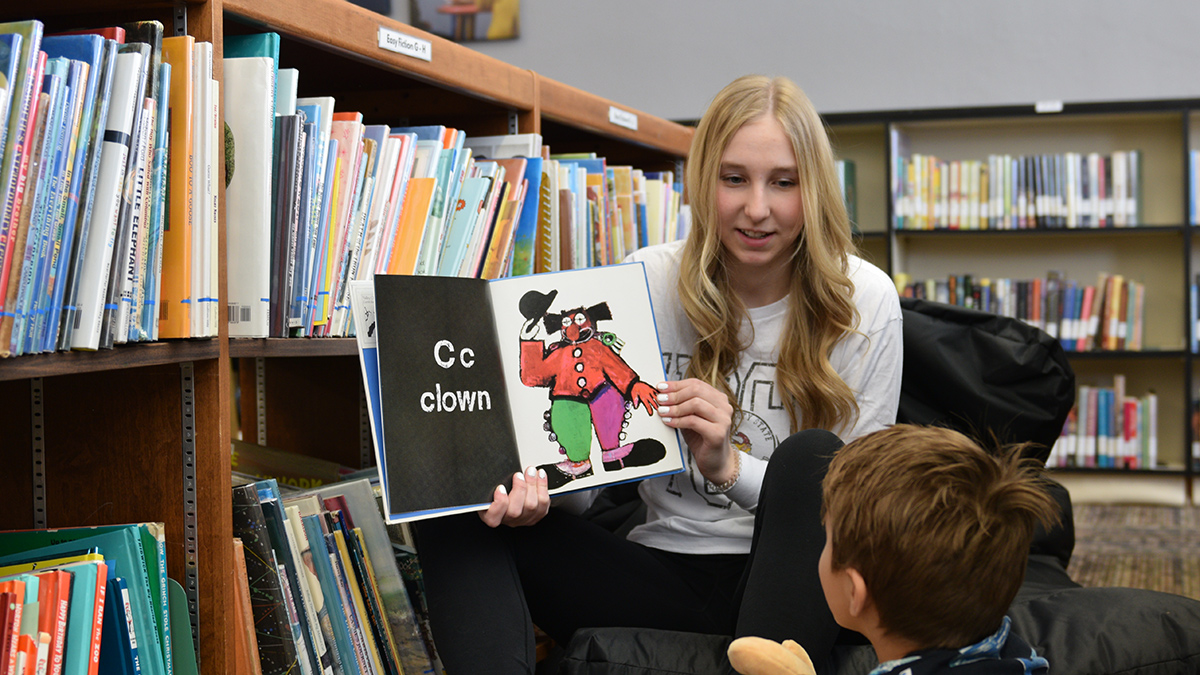 The VCSU Memorial Student Center is a meeting place for students, faculty, alumni, and the community. The Center provides conference rooms, a complete food service, a bookstore with mail service, a large lounge, and a number of other seating areas. The Center strives to create and administer programs that serve the best interests of the students. Programs and activities are planned and administered by student groups, the Viking Campus Activities Board, and the Director of Student Activities.
Various services that are housed in the Student Center include
Information Desk and Lost and Found
Bookstore
Mail Service
Food Service
Lower Lounge Game Room
Identification System
Vehicle Booster Cables, Battery Charger and Extension Cords
Check Cashing
Conference Rooms and Student Center Facilities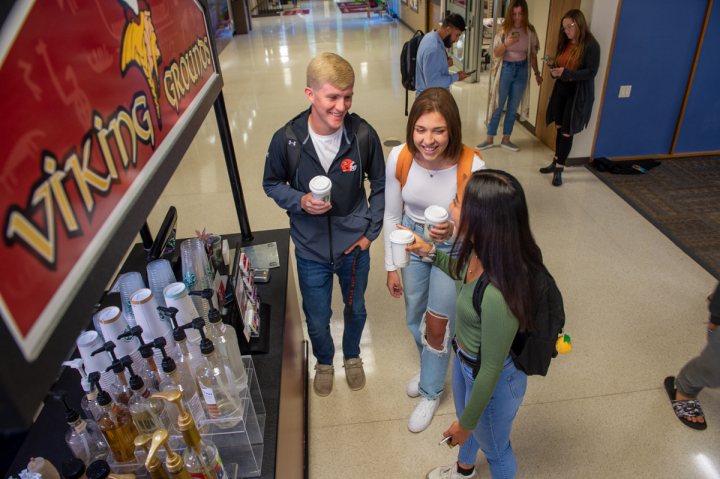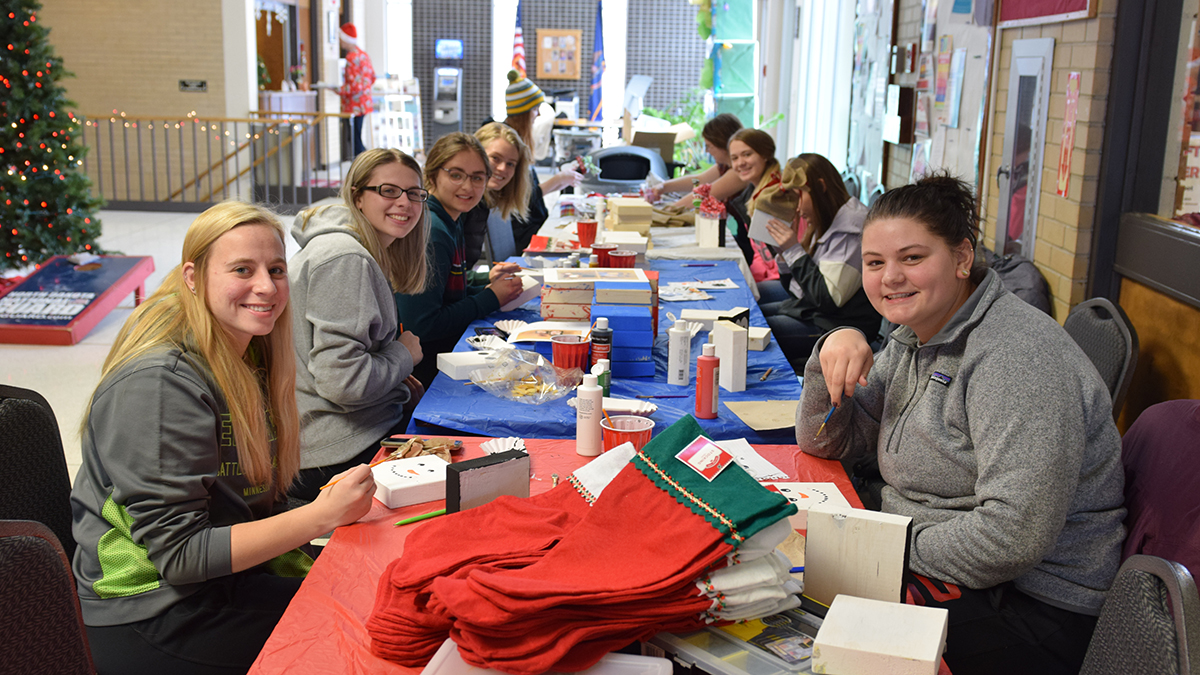 VCSU's contemporary, $32 million Center for the Fine Arts is home to both the Music and Art Departments. In addition to traditional art and music spaces the center has specific spaces, for ceramics, digital photography and digital design labs, and a full recording and production studio.
Art facilities include:
a ceramics lab
printmaking, painting and drawing studios
a digital design lab
a digital photography studio
and a woodshop
An art gallery provides a highly visible, secure space to showcase student and visiting artist exhibitions.
This building houses the Digital Design program, bringing together art and technology in a stunning new space.
---
Music facilities include:
a 350-seat performance hall
a 100-seat recital hall/choir room
a band room
a piano/computer lab
a recording and production studio
large and small practice rooms
faculty offices/studios
Acoustic treatments have been designed for all performance, rehearsal and practice spaces, and the larger spaces feature adjustable acoustics and audio/video capabilities.
Gathering spaces are found throughout the building, and a grand lobby provides a reception area and showcases arts from VCSU.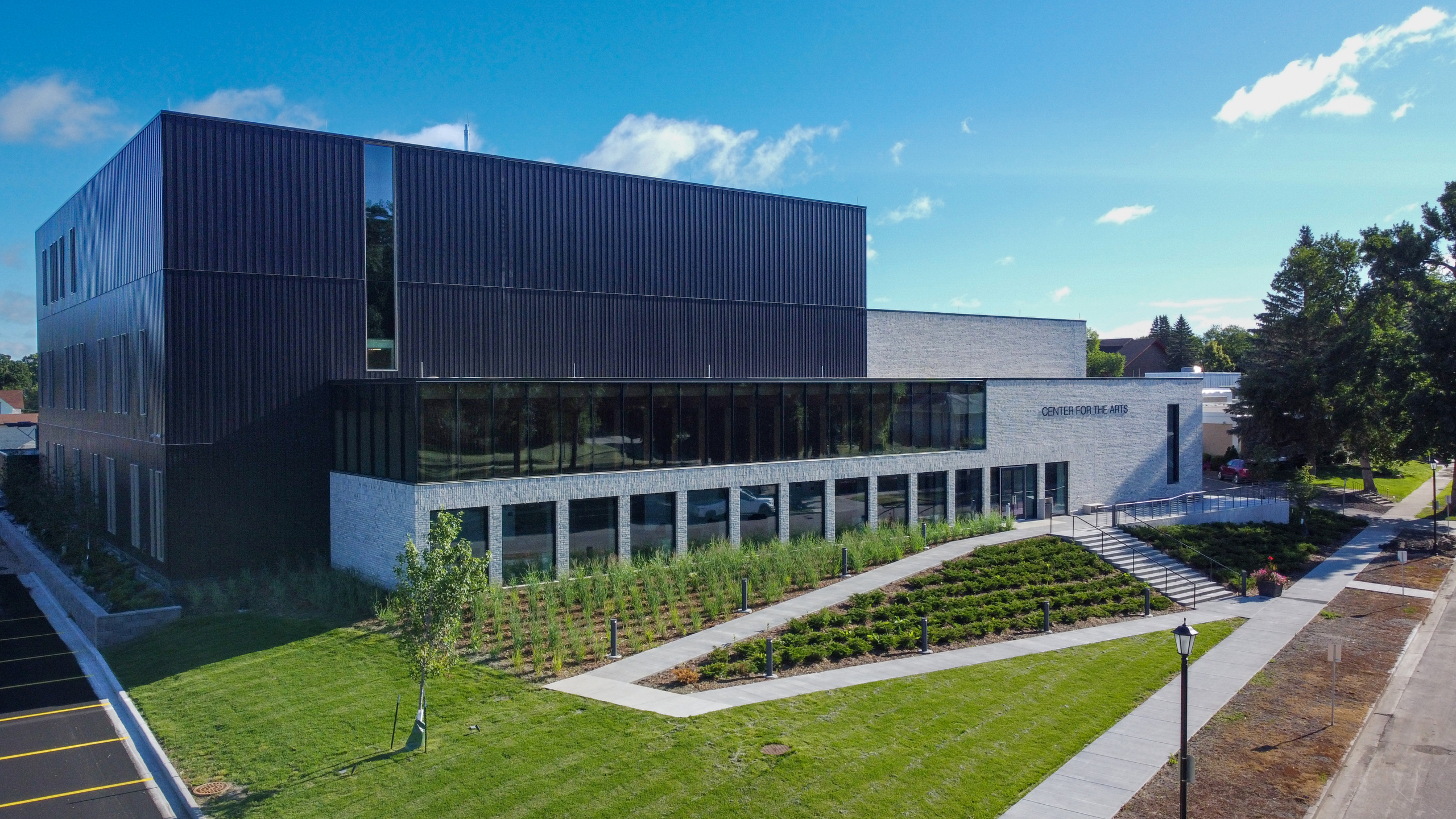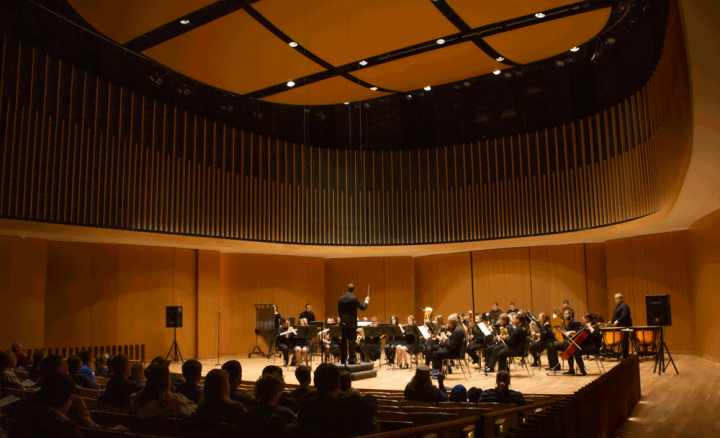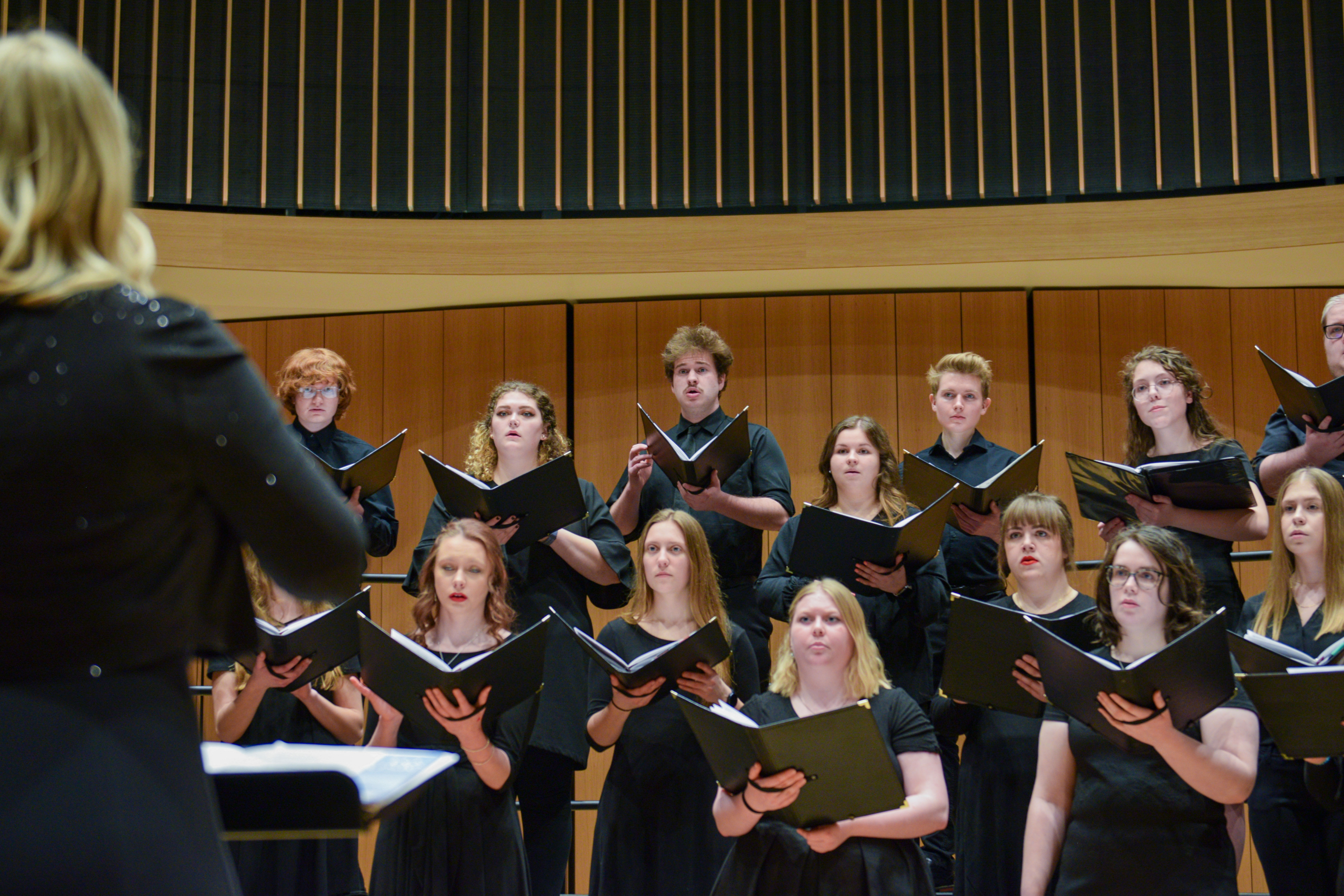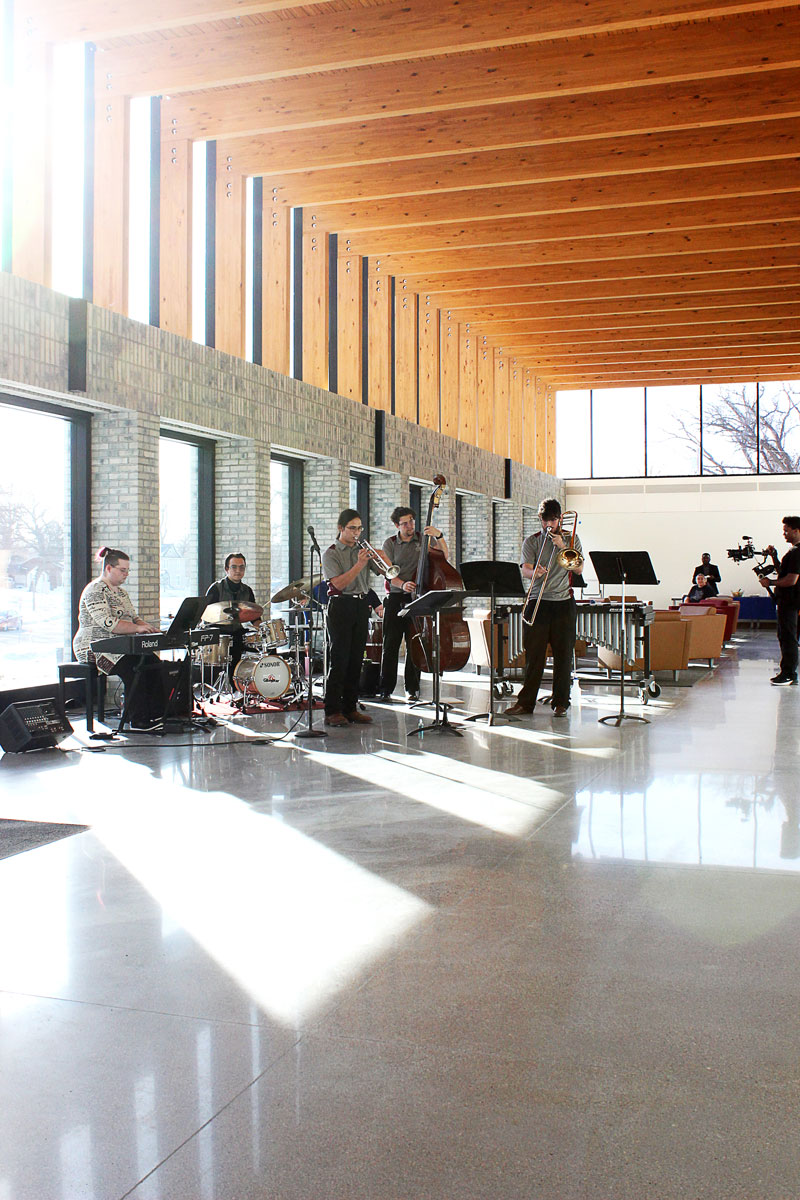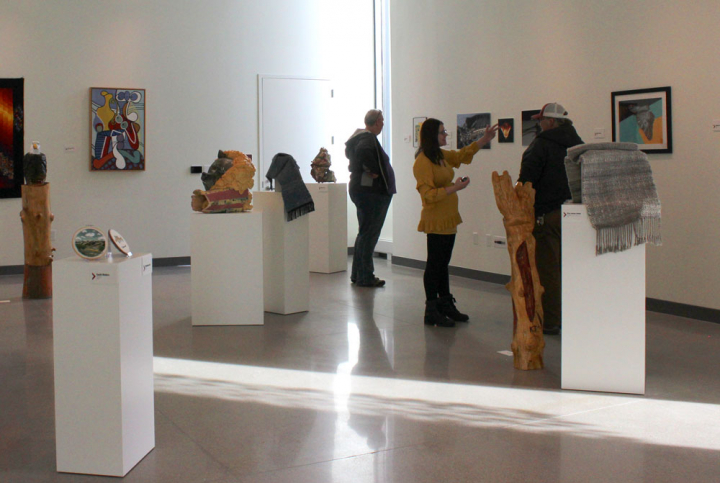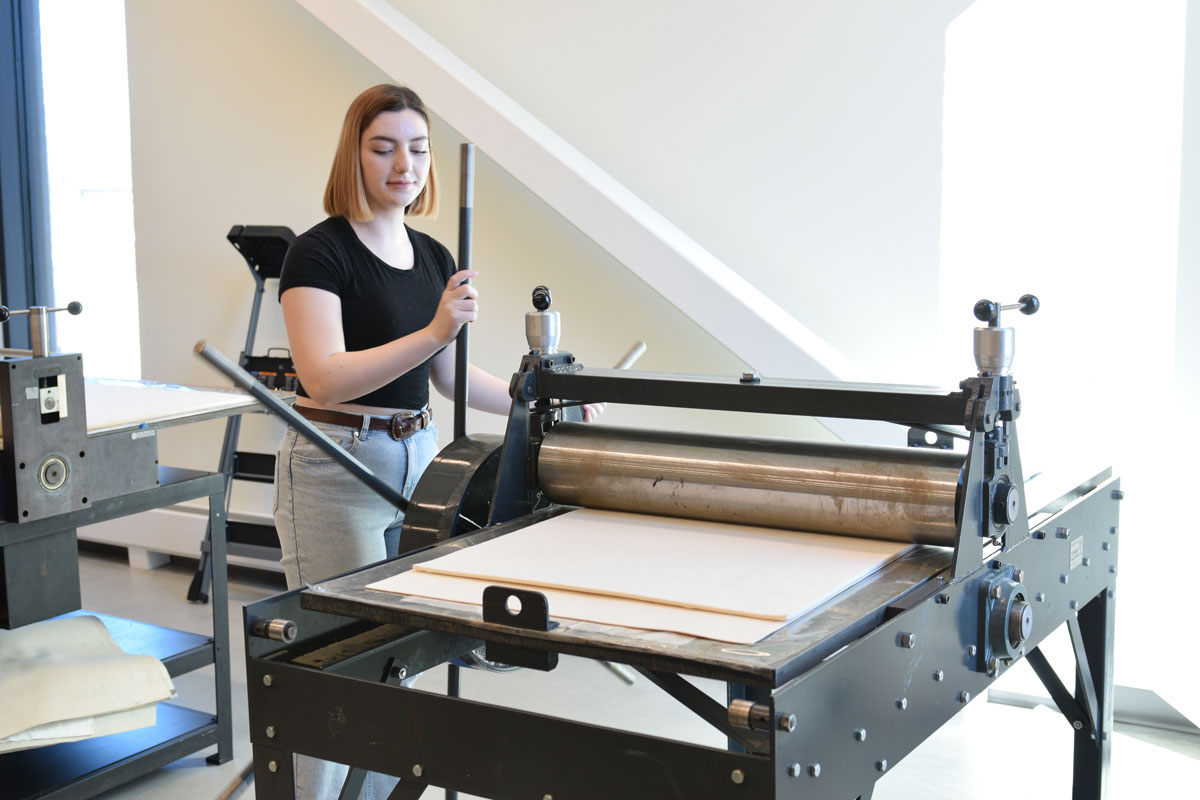 This building provided classrooms for junior and senior high school students; the K-6 portion of the model school remained in the east wing of McFarland Hall (now home to Enrollment Services, Registrar, Financial Aid, and Education faculty offices). Completed in 1930, the new high school featured asphalt tile floors with terrazzo borders, spacious classrooms, two large assembly rooms, and specialized classrooms for home economics, art, and industrial arts. The model school concept flourished at VCSU from the normal school days through 1965, when the campus school closed and the building was repurposed for offices and classrooms.
On May 28, 1968, the building was named in honor of Superintendent Margaret McCarthy, who directed the college training school from 1919–45. Surprisingly little is available about Miss McCarthy, considering her long tenure and the flourishing state of the model school under her direction. She co-authored a textbook on teaching reading, and, upon retirement, moved to Madelia, Minn., to live with her sisters, where cemetery records indicate she died in 1956.
Valley City State University is planning to renovate McCarthy Hall to create a new School of Education and department of Technology Education and Technical Education Programs. We consider this a teacher workforce development project. VCSU will match this effort with $2 million in private donations. This project renovates existing space and is projected to have only minor impact in ongoing costs for heating, lighting, and maintenance of the space, which can be managed at existing funding levels. It will not require any new FTEs to maintain or staff the area. The programs housed in the building are existing and do not, at current levels, require more employees.
VCSU has already completed preliminary design and costing of the project. If funded, we could begin quickly, and would be completed in two to three years. Based on preliminary design, the cost to construct is estimated at $13.4 million. It would renovate McCarthy Hall and eliminate over $8 million in deferred maintenance, updating systems and allow this facility to  operate for many years to come.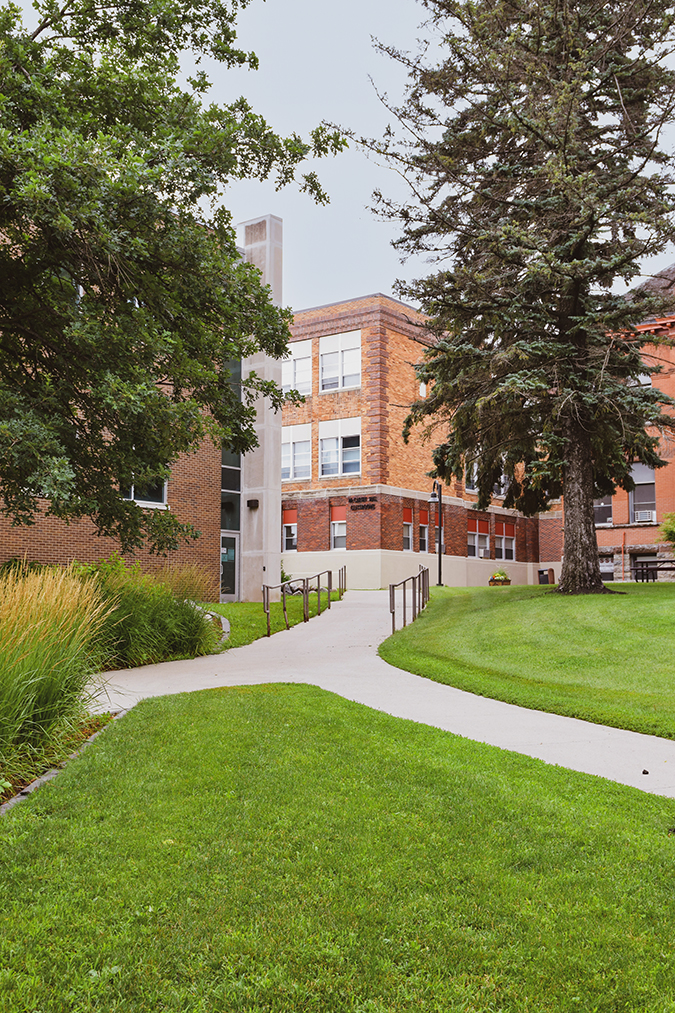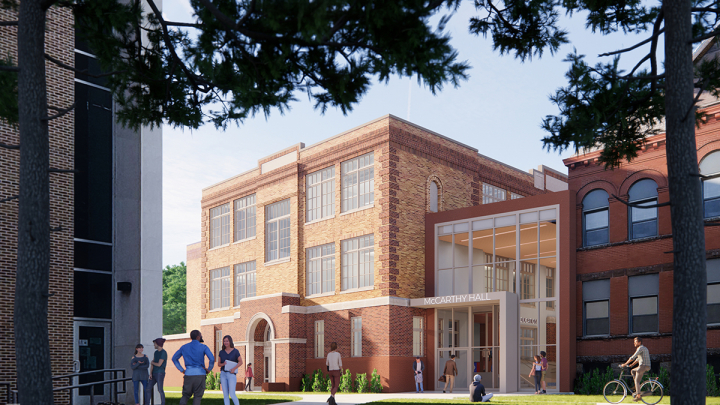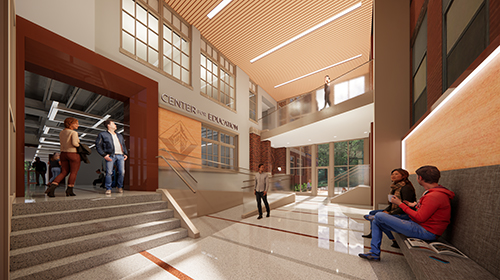 This new sign on McFarland Lawn was designed by Valley City native, Mark Miller. In 2016, Miller took a business course where Dr. Aberle assigned the class to design a VCSU sign for the front lawn. The Campus Beautification Committee then selected his design and saved money over the last few years to put this project into motion with financial help from Student Senate.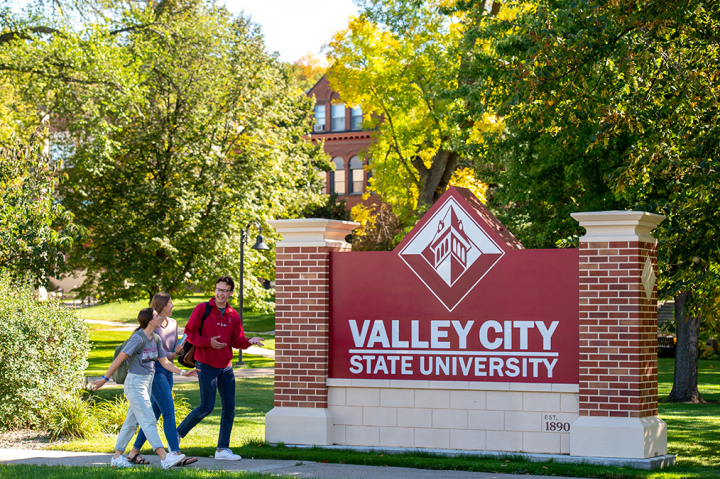 The footbridge at VCSU is one of the most iconic spots on campus. As interim President in 2018, Dr. Margaret Dahlberg wrote an article about the bridge's history. See an excerpt from her below.
One of my earliest memories, perhaps from age 4 or 5, is walking across the campus footbridge with my cousin to meet my parents for lunch on campus. The planks beneath our feet were splintered and a few had wide enough gaps to frighten me. "What if I fall in?" I would ask my cousin, who always scoffed at the idea: "There is no way you could fit through that gap," she would tell me. That bridge, connecting me to the campus and my parents at work, has been an emotional center for much of my life, and helped me feel that I was "coming home" 22 years ago when I started working at VCSU.
That footbridge has also been a central element in connecting campus and community, both literally and figuratively, since McFarland Hall was built in 1892. Dr. Welch, in his VCSU centennial history "Cornerstones," notes that a wooden bridge was built in 1892 to make the campus more accessible, but the "cheap pine structure" had to be taken up and rebuilt every year when the ice went out. The Board of Management report in 1900 indicated that "The old wooden structure which has done service for the past eight years is about rotted out and will probably take its final departure when the ice goes out next spring."
In 1901, Dibley and Robinson, a Fargo firm, constructed the current suspension bridge, described in the 1902 catalog as a "beautiful steel wire suspension bridge, which is itself a work of art." The construction firm's name and the date are visible at the entrance on each side of the bridge—look for it just above you as you enter. The Times-Record announced on Dec. 12, 1901, that "the new bridge is completed. It comes high, but we must have it." It cost $1,940.
In 1901, the entrance to the bridge included signage and ornate white ironwork. The formal brick entrance on the north end was built in 1926 and dedicated as the "New Alumni Entrance."
In August 1992, the bridge was closed because a teen-aged motorist attempted to drive across it. According to the Times-Record (August 20, 1993), it sustained damage to the decking, beams, cable anchors and railing. It was out of service from August 1992–June 1994 while it was carefully restored and reinforced. Circular brick planters were built in front of the entrance on each side to prevent a recurrence of the unfortunate attempt to cross with a vehicle.
By this time, the wood decking was made of treated lumber, so there was less concern about rotted decking. This is fortunate, since the bridge was tested by flood several times in the next few years—first in 1997, when the water was less than a foot from the walkway, and then in 2009, when the floodwaters surged above the walkway by more than a foot. The wood planks had to be sanded and sealed, and bridge inspected for structural integrity before it was back in use in July 2009.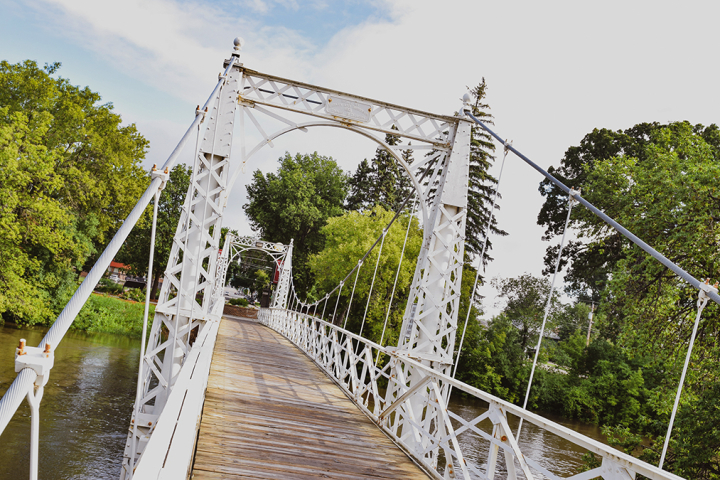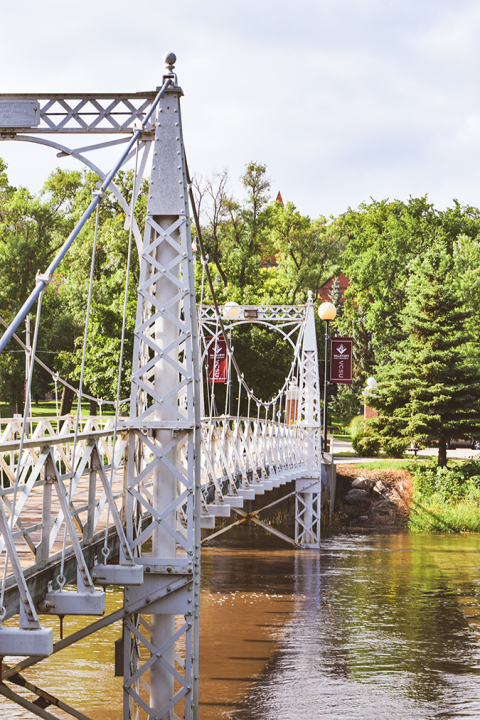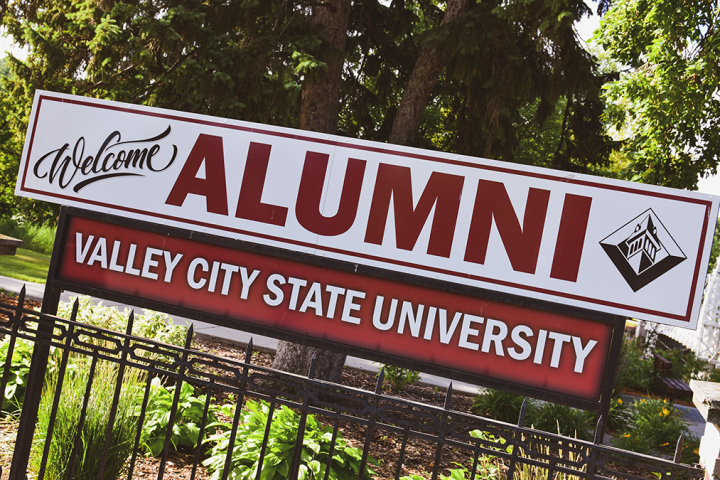 The W.E. Osmon Fieldhouse was built in 1960 and has remained largely the same. Over the last 60 years, the number of athletes at VCSU has increased from 111 to nearly 300 and more than 20 athletic staff have been added. Women's athletics has been added and teams on campus have doubled.
The W.E. Osmon Fieldhouse is the main gymnasium on the campus of Valley City State University. Affectionately known as "The Bubble" by locals, the Osmon Fieldhouse is home to the Viking men's and women's basketball teams.
With a capacity of about 2200 people, The Bubble creates an exceptional atmosphere during big games. It is across the street from the Gaukler Family Wellness Center.
The Fieldhouse is also used as the location for VCSU's annual Commencement Ceremony, and is the site of the annual Boys and Girls Barnes County Basketball Tournaments. Volleyball, football, baseball and softball also use the fieldhouse as a practice facility at certain times during the year.