McCoy Details
Single – $1,880.00* per semester
Double – $1,430.00* per semester
*prices listed are for the 2023-24 academic year only 
McCoy Hall sits directly southwest of the new Center for the Arts building, nestled in the corner of Viking Drive and 4th Avenue SW. Its three floors can be reached by stairs, and each has a lounge, a washer and dryer, a room to dispose of trash, and a kitchenette. The first floor has a full kitchen, and there's a pool table in the lobby immediately upon entrance. McCoy floors are typically split among single-room and double-room residents.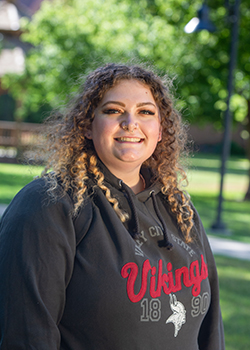 Kiara Radke
McCoy Hall resident

McCoy Hall has a built-in community with a weekly activity, such as movie nights or Mario Cart games. Everyone was immediately friends which was a welcoming feeling. The price of a room in the residence halls is more reasonable than the cost of most apartments, and it's right on campus – the furthest walk being five minutes which is really nice when it's -10 degrees out!
Learn more about Kiara
Quick Info
Single-gender female hall
Communal layout – bathrooms per floor
116 beds available
1-2 residents per room
Air conditioning in hallways
Daily bathroom cleaning
Clothing storage
Lounges with televisions
Exercise room
Pool table
Wireless internet
Printing center
Cable TV
Free laundry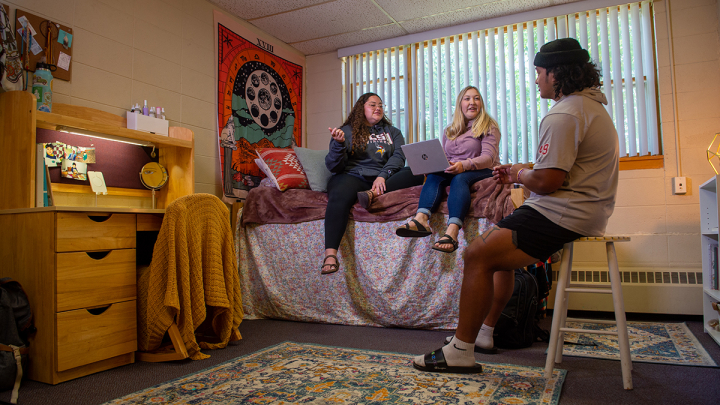 Contact Residence Life
Riley Perryman
Hall Director
I am currently a Hall Director for Residence Life at VCSU. I love that living in the residence halls gives students the opportunity to come together and create an inviting atmosphere. The residence halls are a great way for residents to meet other students and create lifelong relationships!