Stay With Us
By living on campus, you're right in the action. Choose a home away from home where you can focus on being a student first. Make memories with your roommates or suitemates, build relationships through residence hall programming and connect with friends over a meal in the Café.
Campus Housing
Browse our high-value, full-amenity residence halls and find one that suits you and your lifestyle. With five options to choose from, we have a place for everyone.
Housing costs include a $30 programming fee, allowing Resident Assistants to host community-building events in every hall where residents can enjoy free food and prizes, attend fun activities and even receive extra education.
Explore the residence hall options below to learn more about pricing, amenities and more.
UNIVERSITY APARTMENTS
Live on-campus with an off-campus feel by renting one of our extremely affordable apartments. Open to students who have earned at least 60 credits or students who are 21 years old, these apartments hold 2 bedrooms and 1 bathroom per unit. Email housing@vcsu.edu for more information.
Garret Fettig
Resident who has lived in Robertson, Kolstoe, and Snoeyenbos Halls

Living on campus all four years at VCSU has drastically improved my college experience. Whether attending class, going to activities, or meeting up with friends, I'm always traveling the shortest distance. The safety and comfort I feel in campus housing allows me to focus on my studies and better prepare for life after graduation.
Residence Life Staff
All residence halls have Residence Assistants for each floor who serve as a resource for students while they live on campus, and are supported by their Hall Director. RAs plan engaging programs and host activities for residents to participate in. ResLife staff are there to guide students and help them achieve the best living experience possible.
Contact Residence Life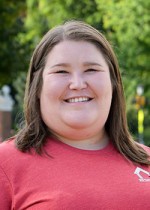 Erin Edinger
Director for Residence Life
I take a lot of pride in making sure that our residence halls are a place where everyone feels comfortable, safe and welcome. While the residence halls are a place to study and sleep, they are also a place to make friends, have fun and create the memories that you will laugh about for the rest of your life. I love providing the backdrop for those memories.