Snoeyenbos Details
Single – $2,357.50* per semester
Double – $2,002.50* per semester
*prices listed are for the 2023-24 academic year only
Snoeyenbos Hall sits just up the hill from McCoy Hall, away from the hustle and bustle of central campus. Each floor of the hall can be reached by an elevator or stairs, and has a lounge with a kitchenette, a study room, a laundry room with two washers and two dryers, and a place to dispose of trash. The first floor features a full kitchen with a dining area, a lobby with comfortable seating, a pool table and a fitness room.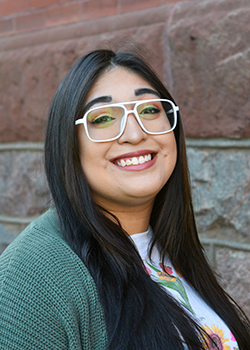 Dahlia Diegel
Snoeyenbos Hall resident

I enjoy how small our campus is because even in the winter, it is not even a 10-minute walk to your class building. Living on such a small campus allows you to really get to know your floor, building and classmates. In Snoey, having separate study lounges for study sessions with friends always comes in handy. My favorite memory in the dorm is all the late-night movies and chats at the R.A. desk.
Quick Info
Coed hall
Suite-style layout
Bathroom per suite
131 beds available
2 double and 1 single room per suite
Air conditioning
Clothing storage
Lounges with TV
Exercise room
Pool table
Trash disposal room
Wireless internet
Printing center
Cable TV
Free laundry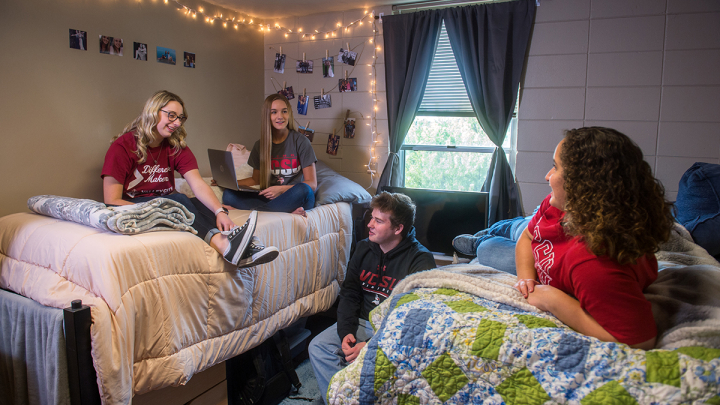 Contact Residence Life
Riley Perryman
Hall Director
I am currently a Hall Director for Residence Life at VCSU. I love that living in the residence halls gives students the opportunity to come together and create an inviting atmosphere. The residence halls are a great way for residents to meet other students and create lifelong relationships!