Technology Services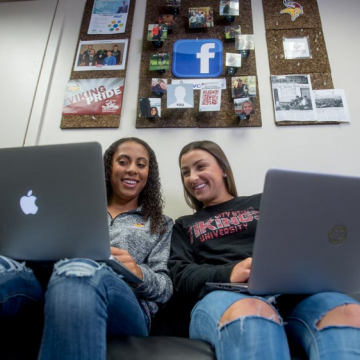 Welcome to Technology Services!
Leveraging technology in education is part of the VCSU DNA. It is in our mission statement, it is in our vision, and most importantly, it is in the hands of our students and faculty. All full-time students and faculty, as well as most staff, are issued either a MacBook Air or a Microsoft Windows based laptop.
A Tech-Filled Learning Environment
In addition to the laptop, education students get an iPad on a full-time basis when they enroll in the Educational Technology class. Students have access to laser printing and they can check out video projectors, cameras, speakers and more. All classrooms are equipped to use the laptops, including student tables and chairs, big screen projectors, cameras and microphones. High speed wireless connectivity is everywhere, providing convenient access to a range of industry leading online and cloud computing services. Every VCSU class has an online presence, while maintaining the personal attention of small class sizes. This technology combined with skilled faculty and staff results in a more convenient and active learning environment.
Technology Desk Information
Technology Service Desk
technology.services@vcsu.edu 
Office Location
Rhoades Science Center, Room 117
Office Hours
7:45 a.m. – 4:30 p.m. Monday through Friday (fall and spring semesters, closed on holidays)
Summer hours: 7:30 a.m. – 4:00 p.m. Monday through Friday
Phone Number
(701) 845-7340 (option 1)
All full-time students and faculty, as well as most staff, are issued either a MacBook Air or a Microsoft Windows based laptop.
Full-time VCSU students, selected other collaborative students, and full-time faculty receive the latest model computer. Part-time students have a choice of either a current model laptop (depending on availability) or a previous model laptop at a lower cost.
Laptop Initiative
Five Reasons Students Love This Program
FUN and Effective

Learning is More FUN and Effective

Break free from the exclusive "learn by listening" teaching method and experience a "hybrid classroom" that combines the personal attention of the traditional classroom with online instruction, including Internet resources on demand, rich audio visual presentations, electronic handouts and threaded discussions. You will be actively involved in learning as you use the computer to solve problems, create projects, participate in teams, access information and communicate with others.

Competitive Edge

You Gain a Competitive Edge in the Job Market

By using a PERSONAL computer in virtually every aspect of your learning and business at VCSU, you will gain valuable skills and insight into the typical professional use of computers in a modern organization. The active learning environment described above also empowers you to develop other skills important to employers, such as the ability to work in a team, problem solving, communication and interpersonal skills. Employers understand and respect this experience.

Convenient and Efficient

Portable Computing is Convenient and Efficient

Forget about waiting in line for a computer or having to remember when the "computer lab" is open. Store your information on the hard drive and back it up on your personal space on a VCSU server. Add your own programs, organize your files into folders, and set the sound to your personal needs without worrying about someone else changing or deleting things. Use it, any time, any place.

Higher Productivity

You Experience Higher Productivity and Reduced Technical Issues

Stop fussing with technical issues and get down to the business of exchanging documents, collaborating on projects, and communicating with others. If you have a question, it's likely that the person next to you can help, since everyone has a standard set of hardware and software. When University technical personnel create a solution, it works for you. Because VCSU obtains institutional site licenses you save a bundle on software purchases. Plus, professional staff install it for you.

Right Amount of Technology

The Right Amount of Technology is Always Available

You will never need to go to class without a working computer! If you have a problem, VCSU's on-site service center can fix the computer on the spot or provide you with a loaner at no additional cost. VCSU guarantees students two or three new notebook computers and annual software upgrades during the typical four years of study.
Philip Co, B.S.

Technology Support Specialist

Departments

Service Desk, Technology Services

Stephen Langved,

Technology Support Specialist

Departments

Service Desk, Technology Services

Mike Nix, B.S.

Director for Technology Service Desk

Departments

Service Desk, Technology Services

Office Location

Rhoades Science Center 119A
William Blunck, B.S.

Network Administrator

Departments

Networking, Technology Services

Office Location

Rhoades Science Center 121A

CJ Kotta, B.S.

Director of Network Services / Information Technology Security Officer

Departments

Networking, Technology Services

Office Location

Rhoades Science Center 121A
Debra Dramstad, B.S.

Web Accessibility / Application Specialist

Departments

Enterprise Systems, Technology Services

Office Location

Rhoades Science Center 104E

Erik Kringlie, B.U.S.

Associate Director for Enterprise Systems

Departments

Enterprise Systems, Technology Services

Office Location

Rhoades Science Center 211

Brad Mills, B.A.

Associate Director for Enterprise Systems

Departments

Enterprise Systems, Technology Services

Office Location

Rhoades Science Center 104F

Mitchell Silkman,

Video Production Manager

Departments

Bookstore and Food Service, Enterprise Systems, Student Center, Technology Services

Office Location

Rhoades Science Center 210

Tyler Tufte, B.S.

Software Engineer

Departments

Enterprise Systems, Technology Services

Office Location

Rhoades Science Center 121

Anthony Wendel, B.S.

Systems Engineer

Departments

Enterprise Systems, Technology Services

Office Location

Rhoades Science Center 121

Jodi Roxanne Yu, B.S.

Academic Systems Administrator

Departments

Enterprise Systems, Technology Services

Office Location

Rhoades Science Center 104C
Janice Klein,

Administrative Assistant

Departments

Information Office, Technology Services

Office Location

Rhoades Science Center 111

Joe Tykwinski, M.S.

Chief Information Officer

Departments

Information Office, Technology Services

Office Location

Rhoades Science Center 111A