Kolstoe Details
Double Room – $2,002.50* per semester
*prices listed are for the 2023-24 academic year only
Kolstoe Hall sits directly south of McFarland Hall, making it the closest residence hall to most academic buildings. Each floor of the hall can be reached by an elevator or stairs and has a large lounge with a kitchenette, a laundry room with two washer and two dryers, and a room to dispose of trash. The first floor contains a full kitchen with a dining area, a lobby with seating, a pool table, and a fitness room.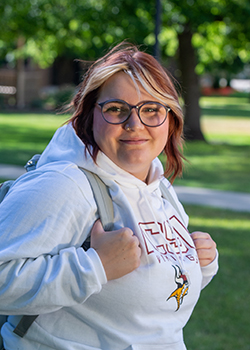 Chloe Anderson
Kolstoe Hall resident

I love getting to know the people in the dorms and being so close to classes. In Kolstoe, the living rooms also give you a nice, separate space to do homework and have friends over. I've started so many friendships in the residence halls and will always remember the connections I've made here.
Quick Info
Coed hall
Suite-style layout
Each suite has its own bathroom
114 beds available
Lounge with television
Air conditioning
Wireless internet
Free laundry
Cable TV
Pool table
Exercise room
Clothing storage
Desk
Elevator accessible to all floors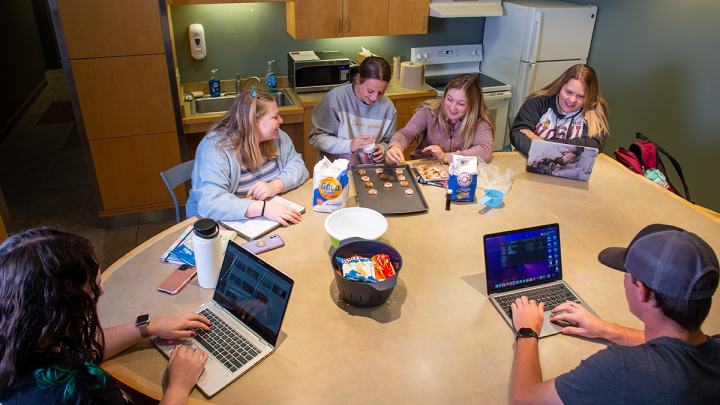 Contact Residence Life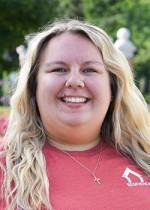 Brittany Nathan
Asst Dir for Residence Life
I am a 2019 VCSU graduate and I love our Residence Halls because they allow students to come together and be part of a community. Two of my favorite things in our halls are the game nights and the programs that our Resident Assistants put on! Go Vikings!