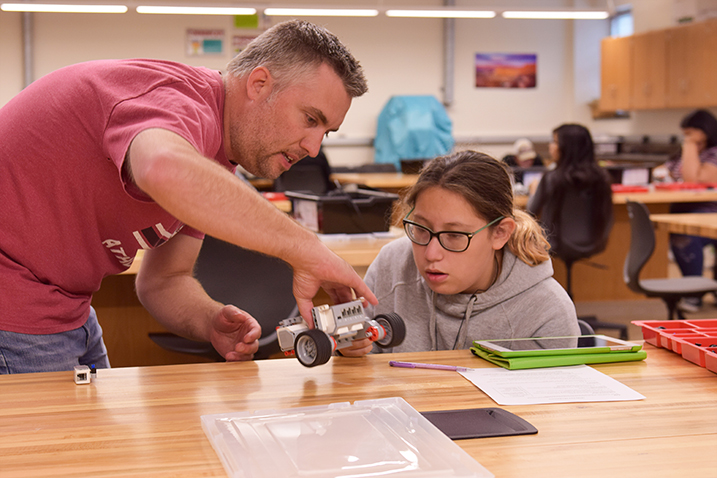 In 2010, Valley City State University (VCSU) established the Great Plains STEM Education Center (GPSEC) to help create the path toward broadly implementing STEM Education in North Dakota. A goal for the Center is to demonstrate leadership in STEM education through professional development for K-12 teachers and administrators, promote high-impact and effective learning opportunities for students, and establish connections with business and industry who recognize as essential that high schools with a strong acumen for higher order problem-solving and communication skills unique to the 21st Century.
VCSU offers a 12 credit teaching certificate/endorsement for k-12 teachers. All courses are offered online and can be taken at either the undergraduate or graduate level. Click on the file below to view course offerings.
At the Great Plains STEM Education Center, our goal is to bring North Dakota to the forefront of STEM Education.
Our role is to provide leadership, professional development for teachers and administrators, documentation of STEM Education competence through endorsements that appear on licenses and certificates that appear on transcripts, promote student competitions and connect with the larger community. In other words, transform delivery of these critical subjects.
So what is STEM Education?
STEM is much more than the acronym implies.
STEM Education above all, is about student engagement.
STEM Education is about project based learning.
STEM Education utilizes the scientific inquiry process and the engineering design process.
STEM Education is multi-disciplinary.
STEM Education utilizes elements of competition.
STEM Education is about active learning.
STEM Education is about collaboration and teamwork.
STEM Education is about practical problem solving.
STEM Education connects the abstract to the lives of students.
STEM Education intermingles process and content.
STEM Education is standards-based.
STEM Education provides students a reason to invest in rigorous subjects.
STEM Education is Education for the 21st Century.
STEM Education is about America's future.
Heide Beierle,

Administrative Assistant

Departments

Science, STEM

Office Location

Rhoades Science Center 203

Jason Lee Dockter, M.Ed.

Assistant Professor

Departments

STEM, Technology

Office Location

Jamie Wirth, Ph.D.

Professor

Departments

Mathematics, STEM

Office Location

Rhoades Science Center 132A