Student Life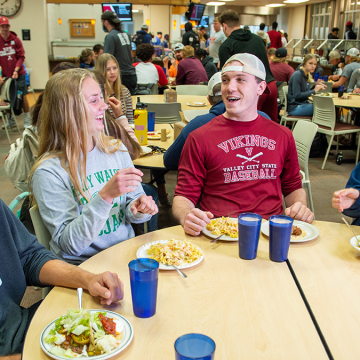 The life of a Viking.
Head into your college years at VCSU ready to get involved. On our campus, students are involved in everything from study groups and sports teams to clubs and student government. Make the most of your time as a Viking by immersing yourself in campus life and making a difference.
Housing and Dining
Your home away from home.
By offering meal plans that incorporate dietary restrictions and on-campus housing that is steps away from your destination, our students are happy and connected. Learn more about which dining and housing options best suit your needs.
Residence Life
Viking Pride
Viking Athletics
Student Profiles
What it means to be a Viking
Whether it's through sports, academics or other activities, find your passion at VCSU. Our tightly knit campus fuels itself on Viking Pride. Don't be afraid to show yours.
Viking Pride
Cheer on your VCSU Vikings
Our driven, competitive, and engaged student-athletes take VCSU athletics to new heights. Home to 14 intercollegiate sports and 250 athletes from across the nation, we pride ourselves on quality performances both in the classroom and on the field.
Learn More
Meet your fellow Vikings.
Our students are outstanding. Learn more about what your peers are doing on and off campus- who knows, you could be featured next!
Profiles
Student Clubs and Organizations
Find your place at VCSU.
Bring your passion to campus by joining one of our clubs or organizations. Whether you're into politics, wildlife, esports, or Spanish, there's a club for you. Don't see anything for you on the list? Start your own club and engage others with the same interest.
Groups & Organizations
Support Services
Help is here when you need it.
Our top priority at VCSU is student success. Making sure students have the resources they need is a critical part of that goal. Find support for any issue you're having- emotional, academic, or career-related. We have trained professionals on campus who can get you the help you need.