Department of Mathematics
Department Chair: Jamie Wirth, Ph.D.
Assistant: Ann Dorman
Contact Us
Overview
Explore our programs
Online or on campus – earn your math degree from VCSU.
Choose from our degree programs in both Mathematics and Mathematics Education. Students engage in rigorous, technology-rich mathematics coursework and have the opportunity to graduate in as little as three years.
Programs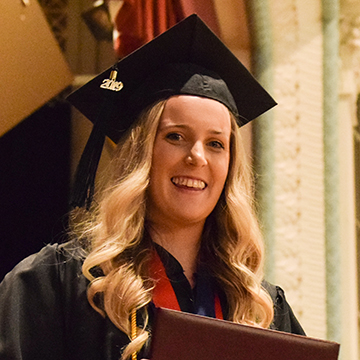 Kadie Anderson
VCSU helped prepare me as an educator, especially in these times, because I can use technology in a different way.
Read more about Kadie
Teaching mathematics can be an interesting and rewarding career choice. Strong demand continues for teachers in math.
VCSU math education graduates have enjoyed a 100% job placement rate over the past 15+ years. Most are under contract with a school district before they graduate.
Students are engaged in mathematics coursework designed solely for teacher education majors, combining math content with pedagogical methods and tools.
The program follows the guidelines of the Council for the Accreditation of Educator Preparation (CAEP) and the North Dakota Education Standards and Practices Board (ESPB). Graduates are licensed to teach math for grades 5-12 in North Dakota.
Mathematics is the foundation for all science, technology, and engineering. Mathematical sophistication is a fundamental skill for a technical society like ours. Mathematics is a major that leads to careers in business, industry, and government, as well as graduate study in a large variety of disciplines. There is high demand in the job market for individuals skilled in mathematics.
Pursue a career in:
Engineering
Statistics
Economics
Cryptography
Actuarial Sciences
Financial Analysis
The Mathematics Minor is designed for students who have chosen a separate major field of study, yet still want to acquire and demonstrate proficiency in mathematical problem solving and critical thinking. Teacher Education majors studying a separate content area may wish to add the Math Education Minor to gain teaching licensure in secondary mathematics as well.
Faculty & Staff
Meet our faculty and staff
Meet the people behind your program—the master balancers of research, teaching, and mentorship—who will support you throughout your time as a student.
Ann Dorman, B.S.

Administrative Assistant

Departments

Mathematics, Science, STEM

Office Location

Rhoades Science Center 203

Trent Kosel, M.Ed.

Assistant Professor

Department

Mathematics

Office Location

Rhoades Science Center 132B

Kevin Murphy, Ph.D.

Assistant Professor

Department

Mathematics

Office Location

Rhoades Science Center 132A

Jamie Wirth, Ph.D.

Associate Professor

Departments

Communication Arts, Mathematics, STEM

Office Location

Rhoades Science Center 132C
Next Steps
You're ready to study mathematics at VCSU. What's next? Visit the links below to become a Viking.