President's Desk
Activated Carbon Update
Nov 16, 2021
Wesley Wintch, Vice President for Business Affairs at VCSU provided an update on the activated carbon plant at the last State Board of Higher Education meeting on October 28, 2021.  The following column is a condensed version of the presentation.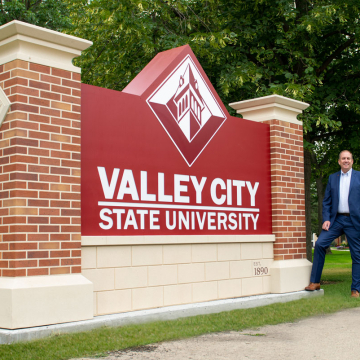 VCSU has been exploring the possibility of developing a revenue stream from activated carbons for the past number of years. Activated carbons are carbon char, usually created from coal or other carbon-based source, that has been activated with steam. The process opens the pores of the carbon char allowing the pores to capture impurities. These are most often used to remove impurities from water or air. Activated carbons are salable on the open market for items like air filters, masks, and water filtration systems.
The 2015 North Dakota Legislative council authorized funding of a new heat plant at VCSU to ensure a long-term, stable, and economic heating source. The heat plant is constructed and operational. A part of this project included a coal-fired steam boiler to provide the necessary infrastructure for the development of a new activated carbons plant which would connect directly to the new heat plant. A byproduct of reducing coal into char is syn-gas. This is a volatile gas that can be combusted and requires the same emission capture equipment needed for coal combustion. The new plant has a boiler designed to burn syn-gas as well as coal with the pollution capture equipment in place. The forward-thinking scientist partners designed this plant to use the combustion of the syn-gas to make steam. This steam is then used to activate the char, and any additional steam created can be diverted and utilized to heat our campus.
Prior to the 2017 legislative session a business plan and feasibility study helped determine enough proof of concept for the project to be economically viable. VCSU was granted authorization to sell self-liquidating revenue bonds of $22.5 million for the construction of the plant. The initial business plan projected a profit of $400K in the first year increasing to over $1M in future years. Additionally, it is projected the project will offset over $350K in annual heating bills for campus.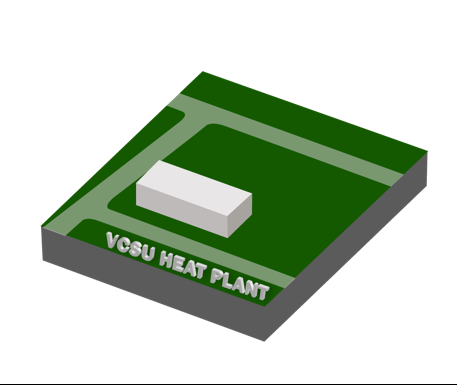 The next steps are to complete the business plan for potential investors, develop an executive summary of the engineering feasibility study, formalize the legal structure, and continue efforts to identify buyers for the activated carbon product. Transaction timing is important to ensure limited time between the sale of the bonds and the start of the project. If progress continues, we anticipate selling bonds in spring 2022.
This will provide outstanding learning and research opportunities for our students. Additionally, the revenue-generating plant will utilize ND lignite coal as feedstock and provide an environmentally friendly solution to power needs. We will keep you posted as the plans solidify and develop further.
Go Vikings!!