News
KHP's Haneishi presents at SHEE-TALKS conference
Aug 10, 2020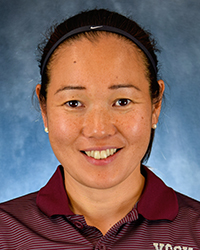 Kanae Haneishi, Ed.D., a new member of the VCSU Kinesiology and Human Performance Department at VCSU, presented at SHEE-TALKS – the Women's Sports Virtual Conference 2020 – held Aug. 1-2. Hosted by the SHEEROSE Welfare Foundation in India, the conference featured 17 sessions and attracted 10,000-plus participants worldwide.
Haneishi spoke about networking and mentoring through the foundations and working with Dr. Marz Snyder from the Women's Sports Foundation at the "What Foundation Can Do for National Program" session on Aug. 1.
She talked of her experiences from playing women's soccer (i.e., winning the silver medal at the World University Games with the Japanese National Team, winning the NCAA D2 National Championship in the U.S., and serving as the team captain for New York Magic), to coaching (i.e., assistant coach at University of Memphis and Smith College and head coach at Mount Holyoke College), as well as further teaching at VCSU. Her presentation will focus on how the foundations like JWS (Japanese Association for Women in Sport) and WSI (WomenSport International) tremendously helped her through those transitions.
More information about the conference can be found at events.sheerose.com.