Alumni & Friends
Orin Rambow
Feb 4, 2021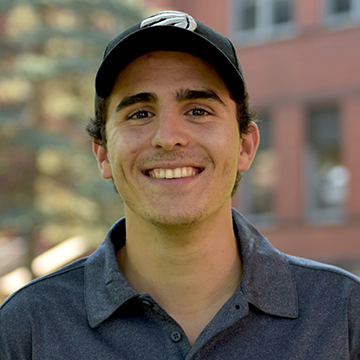 What year did you graduate from VCSU?
I graduated in 2019.  
Where are you working right now?
I'm currently attending school at Northwestern Health Sciences University, studying chiropractic.  
Why did you choose to attend VCSU?
I chose to attend VCSU because of the small school atmosphere. It appealed to me because it felt more like a family than a school. I always felt like the school actually cared about you as a person. I did not want to feel like just a number at a school, and this stood true at Valley City State. I felt like I mattered. 
How did VCSU help prepare you for your current position?
VCSU helped prepare me for my current position by showing me that if you put hard work in, anything is possible. When I left Valley City, I really felt like I could do anything if I put my mind to it. 
Why would you encourage prospective students to attend VCSU?
I would encourage future students to attend VCSU because the school really cares about you and your well–being. As a student, you will get up close and personal experiences with the professors and staff, which I really feel are unique to the school. I know for a fact that I could come back and visit with some of the staff, which is a very nice feeling. 
What did you value most about your time at VCSU?
What I valued most about VCSU was how friendly everyone was, from staff to students. During my time at Valley City, I always felt that there was someone to talk to, and the environment was always so inclusive. 
Anything else you'd like to tell us about VCSU and your time here?
Valley City State shaped me into the person I am today. I think about who I was as a person when I came in as a shy, unsure freshman, to then leaving as a confident senior. I really owe a lot to the school. When I think of Valley City State University, fond memories always come to mind, and I will always cherish my time there!