President's Desk
Planning, activities, and collaboration
Jul 10, 2020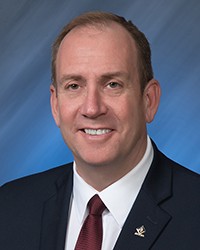 Alan LaFave, D.M.A
Greetings from Valley City State University!
Many outside higher education might think that the summer months on a college campus are slower paced, but folks on the inside know better. While the atmosphere is certainly different this summer on campus without students, faculty, camps and in-person workshops, we are moving forward at an increased pace with a myriad of projects and planning efforts.
We recently sent a message to students detailing what they should expect when they return to our campus late next month. This includes some of the many protocols that will be in place to insure the continued health and safety of our community. We described the additional personal protective equipment that will be made available for all, new ways of handling food service and dining options, and a synchronous remote-delivery option available for all face-to-face classes.
We know that as the COVID-19 situation evolves, we will need to be prepared to adjust as needed. All of our students will be tested prior to the beginning of the semester. In fact, many of our student-athletes will be tested beginning later this month through the start of the school year. The NAIA continues to update guidance and recommendations for a successful return to fall sports and is committed to minimizing health risks to student-athletes and staff.
Part of our planning includes continued participation with the NDUS Small College Task Force. This sub-group reports concerns, questions and recommendations back to the overall NDUS task force. We have found these weekly meetings very helpful in sharing best practices and addressing common challenges and concerns.
The NDUS task force, in direct contact and dialogue with the North Dakota Department of Health (NDDoH), is led by Dr. Joshua Wynne, chief health strategist for the State of North Dakota.
On a local level, we continue to have twice weekly meetings with our Pandemic Response Team to address issues and challenges specific to VCSU. At our last meeting, we were fortunate to be joined by Jennifer Schmidt, NDDoH field epidemiologist, who shared her thoughts and perspectives on our reopening plan. With her thorough knowledge of the COVID-19 situation, she was able to answer many questions and provide advice.
We continue to also participate in the weekly City-County Health updates led by Theresa Will and sincerely appreciate the guidance, support and collaboration with this valuable group.
What an impressive job the National Guard and City-County Health leaders did in hosting the COVID-19 testing event last week. There was much interest and great participation in the event, and the organization and professionalism of all involved came shining through. We are fortunate to have such dedicated folks leading these efforts here in Valley City and all across North Dakota.
In the midst of all of these meetings and planning sessions, we continue to look to our future. The upcoming VCSU President's Cabinet retreat provides campus leaders with an opportunity to envision and strategize for the university's short- and long-term viability. This year's retreat will focus on strategic planning, budgeting, and student-success initiatives.
To say we are excited to welcome students back to campus is very much an understatement. We believe we are stronger together, and we plan to continue providing high-quality, student-centered learning opportunities for all VCSU students.
Go Vikings!