President's Desk
President's Column – Spring is in the air!
Apr 4, 2022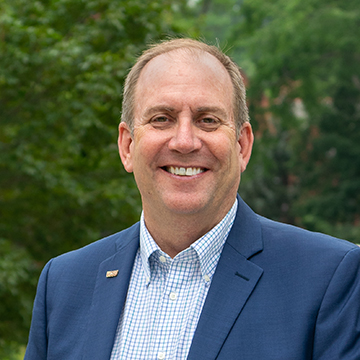 Greetings from VCSU!
With the gradual warming temps of late, the anticipation of the spring season is powerfully felt by all. We are thankful for the slow melt resulting in a diminished risk of flooding. We are appreciative of the permanent flood protection the VCSU campus enjoys thanks to a tremendous town-gown relationship we enjoy with Valley City.
In this column, I'd like to share a few highlights from the past month of activity and preview an exciting event coming up later in April.
On March 10, I was privileged to participate in a strategy review session with the Governor and his budget team at the capital in Bismarck. This was an opportunity to share some of VCSU's successes during the past year and discuss our strategic vision for the future. The timing was perfect, as we are currently working to define and form our strategic plan for the next three years. Training sessions were held in mid-February and a planning committee made up of faculty, staff and students has been formed. This group, led by Dr. Kerry Gregoryk, meets weekly to strategize for our university's continued success. As we contemplate what we collectively would like to see for VCSU in the future, it's gratifying to have so many forward-thinking leaders participating in the process. Whether discussing curriculum development, program growth, facility enhancements, campus climate, or opportunities for professional development, the committee continues to place student success at the front of each discussion.
Two weeks later, on March 24, I had the opportunity to attend and perform at the North Dakota Music Educator's Conference in Bismarck. I must admit that this came with an element of nervousness. As a college president, practicing and playing the clarinet is no longer at the top of my list of priorities. The concert was with the Missouri River Community Band, a volunteer adult band in the Bismarck-Mandan communities, conducted by retired Mandan band director, John Warren. I performed a lively version of "The Flight of the Bumblebee" with former students and quickly recalled the years of scale practice (especially the chromatic scale). It was a pleasure to be a part of a program that featured teachers and students performing together. The week also featured our music faculty and students representing VCSU in an exemplary fashion with a booth in the main convention hall and the initiation of Professor Jere Heide into Phi Beta Mu, an International Bandmaster's Fraternity.
Finally, I'm excited to announce that there will be a ribbon cutting ceremony for the new Center for the Arts building on April 21 at 2 p.m. The event is free, and the public is invited to attend. This is the first new academic facility on our campus in many years and many of the individuals and leaders who helped make this possible will be in attendance. There will be a brief ceremony followed by a short concert performance and student-led tours. If you haven't had a chance to see the facility yet, please join us if your schedule permits! More details will follow soon.
Go Vikings!