General News
Center for Equity and Inclusion open house Sept. 15
Sep 7, 2021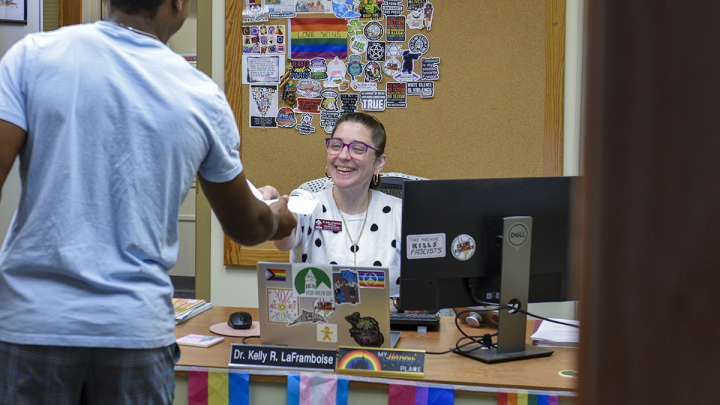 The VCSU Office for Diversity and Inclusion will host an open house for the new Center for Equity and Inclusion on Sept. 15. The event will take place from 1 – 4 p.m. in McFarland 131. The center is located next to the new Office for Diversity and Inclusion in McFarland 132.
The Center for Equity and Inclusion is a student-centered safe-zone and stigma-free area where students can hang out, watch TV, play video games and partake in other fun activities while relaxing with friends in a comfortable and fun environment. A kitchenette area offers a full-size refrigerator and microwave, Keurig coffee maker, toaster, and tea kettle where students, faculty, and staff can store, prepare, and eat meals and snacks throughout the day.
Many resources will be made available for the campus community including health and hygiene products, literature and handouts on diversity and inclusion issues, movies and books with diverse and inclusive narratives and characters, and direct access to the programs and education opportunities available from the adjacent Office for Diversity and Inclusion.
Kelly LaFramboise, Ph.D., director for diversity and inclusion, has many plans for activities and programming for the upcoming year. The theme for the 2021-22 school year is "Brave Enough to Challenge My Assumptions" and will mark Dr. LaFramboise's second year in this role.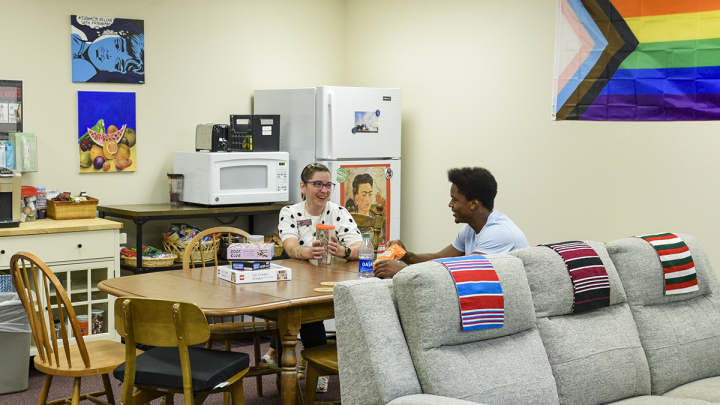 A few of the events and activities include:
Monthly small-group Table Talks around the dining table where groups of 6-7 peers discuss current event topics and issues relating to diversity and culture changes
Second annual VCSU Hanukkah Party
Black History Every Month
Breaking News watch parties
Social Justice Book and Movie Club
Monthly podcast
Monthly arts and craft nights
The office's role on campus serves to provide programming and education opportunities on topics related to diversity, equity, inclusion, and multiculturalism to all areas of campus operations and life. It also manages the university's Cultural Diversity and International tuition waiver process and provides information to university administration on best practices for diversity and inclusion in higher education. It does not serve a punitive role on campus or conduct investigations on reports of bias or discrimination. That is strictly the role of Human Resources.
The VCSU community is encouraged to check out the resources offered and learn why this type of space is important for student life and retention.