President's Desk
2021 at VCSU
Jan 3, 2022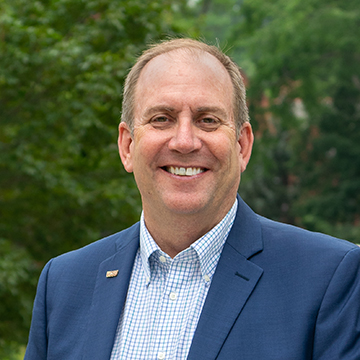 Greetings from Valley City State University! It's been an exciting year at VCSU.
In this final column of 2021, I wish to reflect on some of the successes of the past 12 months. Our campus community has been recognized nationally, continues to grow, and thrives with the support of alumni, friends, community members and supporters from across the state and nation.
This year we were recognized by U.S. News and World Report as the best regional public college in North Dakota. The same organization also named VCSU as having one of the best online master's in education and online bachelor's programs. These are prestigious awards and show how our campus continues to provide the highest-quality education possible. Our elementary education program continues to be lauded as the best in the nation by Study.com. That doesn't happen overnight. We are so proud of the students, faculty and staff who continue to work hard to make this program one of our shining stars.
Capitalizing on the momentum of the nearly complete $32 million Center for the Arts, another big milestone this year was the official public launch of our Forward Together capital campaign. The campaign seeks to raise $25 million in private funds to address important capital improvement needs on campus, including updating student athletic facilities, educational spaces and to provide continued scholarship support. This will include a major addition to the W.E. Osmon Fieldhouse, the renovation of McCarthy Hall into VCSU's School of Education, scholarship enhancement and funds to update and improve the use of the Memorial Student Center.
This momentum continues to grow along with our enrollment. Our headcount has increased 24% in the past decade and graduate programs are seeing strong growth. This fall we enrolled 1,686 students, the most students in the school's history in a fall semester. Fall enrollment has grown for nine consecutive years. The 1,686 count of students includes a record-breaking 163 students in graduate studies. Graduate program enrollment increased by 20% this year.
While our students continue to grow in the classrooms, they also excel on the field. The VCSU Softball team clinched its second straight NSAA Softball Conference Championship this spring, posting a 25-2 record in conference play for the 13th conference title in program history. We announced plans to establish a coach's hall of fame and welcomed friends and family during a well-attended homecoming weekend. This spring, Zachary Co set a new school record and earned All-American honors twice in shot put, placing 4th in the nation in indoor shot put and 5th indoor at the NAIA national meet. This winter, Co has already qualified for indoor nationals in two events. Kyle Odegard also earned All-American honors in the spring, placing third in the nation in javelin throw. The Viking football team went 8-2 this fall as the team tied nine different school records and the defense finished ranked Top 10 in the nation in several categories.
We know that all successful organizations owe much of their success to the support from many different groups, and VCSU has enjoyed incredible support over the years. We thank all who have contributed to the growth and continued success of our community and university.
Go Vikings, and Happy New Year!