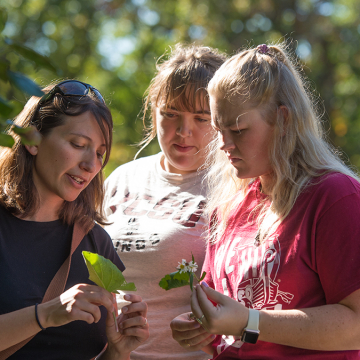 The Environmental Science program at Valley City State University is designed to prepare students for careers in a variety of environmental-related fields, or to continue their education in graduate school. The major combines earth science, biology, chemistry, and physics, to study relationships between humans, and other organisms, and the environment. These qualities make the Environmental Science program a great option for students who are interested in environmental issues, and in gaining a broad education in all aspects of science.
This program provides many opportunities for practical experiences, including frequent field trips and hands-on lab activities. Research opportunities are also available, with many student taking part in laboratory and field research projects.
Graduates of the program will gain the education and experiences necessary to work in a wide variety of well-paying fields, including environmental consulting, natural resource management, the energy industry, public health, and many others. Or, if graduate school is the goal, students will be well-prepared to enter graduate programs in a variety of specialties.
Hands-on Experience

Hands-on Experience

Immerse yourself in your major with hands-on work, and field trips including:

water quality monitoring
soil sampling
stream flow measurements
plant collections

Unique Opportunities

Unique Opportunities

Get your four-year degree at one of only two universities in North Dakota to offer a degree in Environmental Science. Supplement your education with research opportunities in water quality, bioassessment, heavy metals in coal fly ash, and modeling aerosols in the atmosphere.
Andre Delorme, Ph.D.

Dir for Prairie Waters

Departments

Environmental Science, Science

Office Location

Rhoades Science Center 203D