President's Desk
Action packed month…Alumni, Arizona, Athletics, and the Arts.
Feb 28, 2022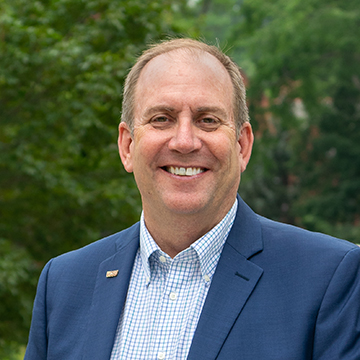 Greetings from Valley City State University!
In all the years I've been involved with higher education, the spring semester seems to "fly" by in such a hurry. This has been especially true this semester in managing to pack meaningful and important campus activities into a shortened calendar, all while enduring the challenges of mother nature. In this column, I'd like to address a couple of high points from the past month.
Alumni and Arizona – February began with an opportunity to visit with alumni and friends of VCSU in Arizona. We were happy to be able to re-engage with this tradition since we were unable to do so last year due to Covid travel and gathering restrictions. We met with more than fifty folks in the Peoria and Mesa areas. It was a wonderful time to reconnect to hear stories and understand what an important role VCSU played, and continues to play, in many of their lives.
Athletics – The Valley City State softball team finished a mid-February weekend sweep with a pair of wins over Dakota Wesleyan and Minnesota State University-Moorhead. The Vikings had a 4-0 record during a weekend of games at the Presentation College Dome in Aberdeen.
The Vikings defeated Dakota Wesleyan in a five-inning game decided by run rule. VCSU smashed 18 hits and scored in each of the five innings to take a 13-1 victory. The Vikings then shut out NCAA Div. II school Minnesota State University Moorhead 5-0.
Additionally, Valley City State swept the first edition of the North Star Athletic Association Softball Players of the Week as announced by the conference office. Joelle Lamontagne was selected as the Pitcher of the Week. Jessica Husband was chosen as the Player of the Week. Congratulations to both!
Our track and field athletes enjoyed a positive culmination to the indoor season. Valley City State University athletes won three conference championships, set or tied five school records, and had 13 All-Conference performances during the NSAA Indoor Track & Field Championships contested Feb. 20 in Brookings, S.D.
Zachary Co (shot put), JT Reed (60 meters) and Brooke Malsom (long jump) all won individual conference titles for the Vikings, and both Valley City State teams finished in fourth place out of seven teams at the North Star Athletic Association conference championships.
Co will represent VCSU in both shot put and weight throw at the NAIA National Championships, running March 3-5 in Brookings. He is ranked fourth in the nation in the shot put.
For two consecutive weeks in February, VCSU senior Kevin Schramm was named the North Star Athletic Association Men's Basketball player of the week. The Viking senior forward scored his 1,000th career point as he posted a 23-point, 15-rebound double-double in a victory against Dickinson State. He becomes the 20th Viking to surpass that mark in men's basketball.
Both our men's and women's basketball teams earned the No. 3 seed for the North Star Athletic Association Postseason Tournament, finishing the regular season with exciting wins over in-state rival Dickinson State. The women ended their season with a loss to Bellevue in the quarterfinal round of the tournament, while VCSU's men advanced to the semifinal round before falling to No. 2 seed Bellevue University.
Arts – Finally, it was an action-packed first week of activity in the new Center for the Arts with the first-ever art show opening on Feb. 16. The show features the work of VCSU faculty and staff. The first concert performance on Feb. 18 in the new concert hall featuring the talents of our instrumental students and ensembles.
It was a proud and inspiring week of activity for these folks, and a wonderful exhibition of talent. We thank the faculty, staff and students for the preparation and success of both events. If you haven't had a chance to see the new facilities, gallery space and concert hall, we invite you to put it on your "to do" list for the near future. I think you'll be impressed!
Finally, I'd like to thank the community for their participation and attendance at events held on the VCSU campus. Your presence is appreciated and noticed by our students, athletes, faculty, and staff. We look forward to welcoming you to campus as the snow begins to melt, and we return to a beautiful, green landscape!
Go Vikings!