President's Desk
Anything but normal
Aug 7, 2020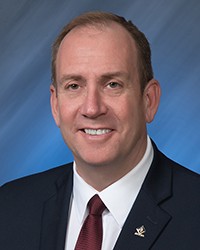 Greetings from Valley City State University!
As we continue to plan and anticipate welcoming faculty, staff and students back to campus in a few short weeks, I'd like to share some personal perspectives on the appreciation I have for our entire campus and Valley City community for the incredible efforts to collaborate and assemble a plan focused on preserving the health and safety of all.
I've heard some say that our plan for this fall is to be "back to normal." I assure you that this fall will be anything but normal. However, if all observe the safety procedures and protocols we have established for our university community, we will certainly be on the path back to normal.
Academics: Margaret Dahlberg, vice president for academic affairs, recently shared details on the course delivery model we will be utilizing as we begin the fall 2020 semester. This robust plan includes options for face-to-face instruction and synchronous remote delivery. Synchronous remote is different from online in that the instruction is done in real time as a live interactive course combining face-to-face students with others participating remotely at the regularly scheduled class time. While synchronous delivery doesn't have the convenience of the anywhere/anytime online platform, it will help us meet the needs of those unable to attend class in the actual classroom for a variety of reasons. High-resolution cameras and upgraded microphones have been installed in classrooms to provide a high-quality remote experience for our students and faculty members.
Safety Equipment and Procedures: Classroom and lecture hall capacities have been reduced by half, and each classroom will be disinfected using an aerosol fogger between each class meeting time. Special HEPA filters will be installed in the air vents, and many offices and classrooms will be equipped with air purification units. Students, staff and faculty will all be wearing masks while in public spaces on our campus, and events will be tailored to meet current Centers for Disease Control and North Dakota Department of Health recommendations and guidelines. Six feet of space between each student will address the physical distancing recommendation, and events will have capacities and spacing modified to meet these guidelines. Plexiglass barriers have been installed in common office spaces and on classroom teaching podiums. Signage is in place on building doors, and special floor decals have been installed to direct foot traffic and maintain a six-foot distance in offices.
Testing: The North Dakota University System and North Dakota Department of Health have been especially responsive and helpful in providing numerous testing opportunities for our students, faculty and staff throughout the state. We are asking our students to take advantage of one of these opportunities prior to returning to campus. There are more than 60 different testing sites and dates in the month ahead, and 3 of them are right here in Valley City. Testing will give us a jump start on containment and mitigation by helping us identify positive cases before classes begin. According to health experts, college-age students are more likely to be asymptomatic (no COVID-19 symptoms present) than the rest of the population, so the opportunity to identify positive cases will allow us to enact special protocols to isolate those from the rest of the general student population. The key is to contain the virus if cases are identified on our campus and keep it from spreading.
Student Life and Activities: Dining Services will reduce capacity to three students per table and have extended hours to accommodate all. Students will be able to eat in shifts with their friends, but in a safer, less congested environment. Tables will be sanitized between each shift. Self-service options will be temporarily replaced with food served by Sodexo staff. Utensils will be pre-wrapped, and a grab-and-go option will be available. The Viking I will be open for business as well, with take-out options available. Student organizations such as Student Senate, the Viking Campus Activities Board, and others will continue to meet and provide safe activities for our students.
Athletics: The Athletic Department has already instituted many safety protocols and will continue to develop procedures and practices that protect the safety of student-athletes, athletic trainers and coaching staff, in alignment with the National Association for Intercollegiate Athletics and North Star Athletic Association. As of this writing, the fall sports schedules for the North Star Athletic Association, VCSU's athletic conference, will be moving forward. One change is that the fall championships for these sports will be delayed until spring. We are looking at ways to partner with other neighboring conferences to potentially develop a regional championship experience for our teams.
I wish to thank all of our faculty and staff for their input, thoughts and ideas as we assembled this plan. Special gratitude is extended to our campus Emergency Management Team for their ongoing efforts in developing and implementing new procedures and protocols throughout campus. We acknowledge that as the COVID situation changes across the country and North Dakota, we must be extra-vigilant and do everything in our power to contain the virus to the best of our ability. Even though there will be noticeable differences on our campus and in our classrooms this fall, we remain steadfast to our mission as a community of learning.
We look forward to welcoming our students back to campus and the Valley City community. We hope to see all of you, in person, soon at an event or just enjoying the scenery and serenity of the most beautiful campus in North Dakota.
Go Vikings!