Academics
Art Update: Multiple events this year at the Center For the Arts
Sep 26, 2022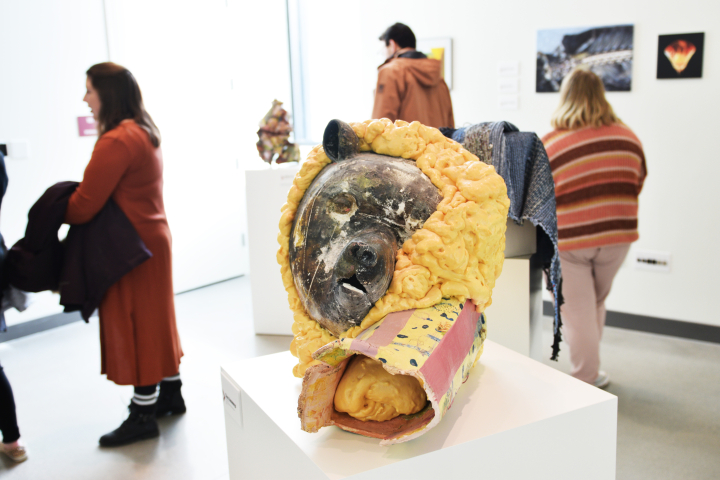 The Center for the Arts will be busy this upcoming academic year with many performances and shows for audiences on campus and in the community. The Art Gallery will have a robust season featuring two visiting artists, an art historian talk, five senior exhibitions, and shows featuring artists from the campus, community, and region.  
The year begins with Visiting Artist Evin Dubois from Paducah, KY exhibiting "Floating as Fanboy." Evin works in multiple materials through sculpture, jewelry, photography, and installation. He is interested in adornment, fashion, personal narrative, and the body. Evin's talk will be on October 6th, 2022, and he will also be conducting a workshop on plaster casting for the VCSU Art Students.  
 The next show, "Kiowa Six Exhibition," will highlight works from the VCSU permanent art collection. Art Historian Dr. Ashlea Espinal will join us on October 13th, 2022, to discuss Native American Art and the "Kiowa Six." Espinal's focus is on how knowledge is stored and transmitted through art, and how this enables history to be visually written through art and objects.  
In Spring 2023 we will see work by our second Visiting Artist Quiwen Li. Her practice revolves around systematic design and experimental typography. Quiwen's work is influenced by her international background. She finds graphic design is a problem-solving process.  
 2022-2023 will be a busy year for student exhibitions. There will be five Art, Art Education, and Digital Design senior students exhibiting during the academic year; three during Fall 2022 and two in Spring 2023. We will be highlighting the High School Exhibition in March 2023, and have our annual juried art show in May 2023.  
 The academic year will close with the NDUS Traveling Exhibition, highlighting works of art from students and faculty throughout the North Dakota University System.  
 The Center for the Arts gallery will be open Monday through Friday 8 a.m. to 5 p.m. and on evenings of the Music Department performances.