President's Desk
Campus updates, student success, and welcoming new students
Jul 7, 2021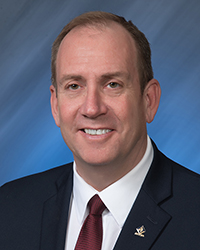 Excellent progress continues to be made on the Center for the Arts and we are on track toward completion within the budget. With plans to open in late December, the facility will serve as a hub of arts activities, classes, and performances for the community and region.
Student success continues to be our top priority and a contributing factor in that success is in the environments our students learn and work in daily.
In the past two months we've had the opportunity to share the construction progress with alums, donors, community members, faculty, staff, and students. The innovative design, creative use of materials, and construction techniques all combine to provide a state-of-the-art facility that is both functional and aesthetically beautiful.
Our art and music programs are primed to grow, with dedicated spaces that enhance creativity that include: classrooms, labs, performance halls, rehearsal halls, gallery space, recording studios, faculty studios, and practice space. Most of the windows have been installed, exterior finishes are nearly complete, and finish work is well underway on the interior.
Every detail imagined has been considered, including important acoustical design, traffic flow, opportunities for growth and expansion, and equipping it for student success. Through quality space, instruction, and programming, this growth will soon be seen in our campus and community. More students result in an even bigger economic impact to our community.
Student orientations provide the jumpstart to student success. During these events, students meet with faculty, advisors, academic support staff, residence life, and come away from the day with a schedule in hand for fall semester classes and more complete understanding of the vast array of academic and leadership opportunities available.
Thus far, we have hosted five orientation days and have three remaining for the rest of the summer. Our numbers are tracking well, but more importantly, our future Vikings have engaged with faculty, staff, and other students to find their place on campus, and pave the way for future success.
We hope you enjoyed the 4th of July celebrations with family and friends!
Go Vikings!