President's Desk
Commencement and Cheer
Dec 14, 2021
Greetings from Valley City State University!
The late fall semester weeks are among some of the most enjoyable and special on our campus. On Thursday, Dec. 16, we will celebrate commencement in Vangstad Auditorium. It is a great honor to award degrees, recognize the accomplishments of 127 students and shake their hands as they walk across stage. We are all very proud of the work they have completed to earn their degree. We are excited to see what these students will do beyond our campus. Our students are already making a big impact on the world as teachers, business professionals and leaders.
The walk across the stage in Vangstad is a defining moment our campus.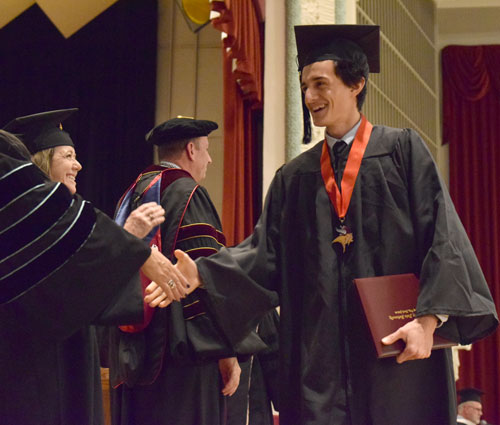 We're also pleased to note that we have 28 master's degrees in education being awarded this week. This program continues to grow in numbers and strength and benefits school districts across our region and state by providing advanced pedagogical training for teachers. Additionally, the Master of Arts in Teaching program helps individuals who have not previously been teachers, become certified educators in their field of expertise. Nick Lee, our student speaker, is a graduate of the M.A.T. program.  He graduated with a Health Sciences undergraduate degree in 2016 and returned to our campus to become a teacher. He teaches science in North Sargent School District, using his degrees from VCSU.
Congratulations Nick, and all your fellow graduates. We are proud of you!
Finally, on Saturday, Dec. 11, we had the pleasure to acknowledge and thank many of our V-500 donors, recognize student scholarship recipients, and meet with distinguished alumni. The V-500 banquet was followed by the 25th annual EBC "We're in the Christmas Mood" performance. This highly-attended event continues to be one of the most anticipated and attended events in our city. We wish to express our sincere thanks to VCSU music alumnus John Monilaws for coordinating and conducting, along with the many volunteer musicians, set crew, and lighting and sound personnel. The performance was repeated at the renovated Nome school house on Sunday, Dec. 12, with a large and appreciative audience in attendance.  Both events were wonderfully successful and certainly put all attendees in the Christmas mood!
Go Vikings!