COVID-19 Campus Information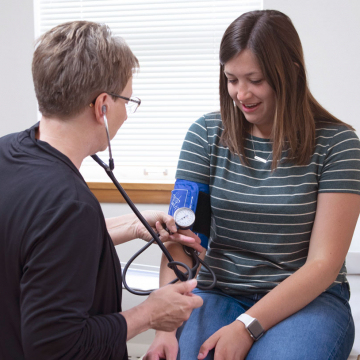 Spring 2023 Information
VCSU is planning to return to a full campus experience for the 2022-2023 school year. To do this safely, we are encouraging all members of campus to get vaccinated and every member of campus to make safe decisions in regard to wearing a mask, physical distancing and hand washing.
Spring 2023 COVID-19 Information
We continue to work with Public Health and CDC recommendations to respond to COVID-19 levels in our community.
Masks
There is no campus-wide mask mandate.
Faculty members may request that others wear masks in their individual classrooms.
Masks will be required in Health Services for patients who are ill.
Plexiglass barriers are available for offices and classrooms. If you wish to have plexiglass barriers installed or re-installed, please submit a Facilities Services work order.
Although masks are not required campus-wide, please continue to show respect to those who want to, or may need to, wear a mask for personal comfort or safety.
Because VCSU's mitigation and mask policy has and will continue to be influenced by local pandemic conditions, there may be changes to the policy in the future.
Exposure and Isolation
Testing and Immunizations
Free rapid and PCR tests are available to students at Student Health Services.
Free rapid testing, COVID-19 immunizations, and booster doses are available by appointment at the City County Health District Office.
Free at home test kits are available on campus for all students, employees, and their families, at the Student Center Information Desk, Health Services, the Field House, and Facilities Services.
It continues to be important to:
Stay home when you are feeling ill
Get all recommended vaccinations
COVID-19 test as needed
Cover your coughs and sneezes
Clean regularly
Wash your hands often
You are valued. Get vaccinated.
Talk to someone about COVID or the vaccine
Campus nurse, Director for Health Services Betty Tykwinski RN, is always available to talk about the vaccine and discuss any concerns you may have. Visit her office on the first floor of Mythaler Hall, call 701-845-7305 or email Betty.Tykwinski@vcsu.edu.
North Dakota Department of Health Hotline
For questions related to COVID-19, the public can call the NDDoH health hotline at 866-207-2880 from 8 a.m. to 5 p.m., Monday through Saturday.