Alumni & Friends
Meet David Woods
Apr 16, 2021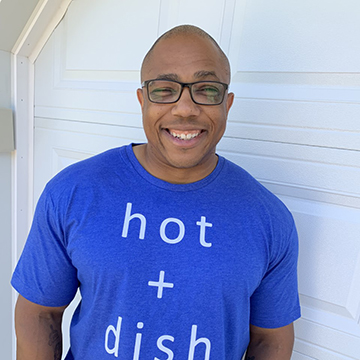 By Garret Fettig, VCSU Marketing Intern
Alaska and North Dakota alike boast freezing winters, beautiful scenery, and abundant natural wildlife, but Dr. David Woods noticed a difference all the same.  
Born and raised in Anchorage, Alaska, Woods flew into North Dakota for the first time in August 1998 to attend fall football practice at Valley City State University.  
"I wore a nice, black Adidas tracksuit when I came to North Dakota," he recalls. "When I came out of the Fargo airport it was 98 degrees, and I'd never been in heat like that. I quickly ran in, stripped off all of my clothes, and came out in shorts and a tank top. Much better."  
 Now, 23 years later, Woods is calling North Dakota his home; the place he met his wife and raised his family, joined communities, and come to appreciate for its many opportunities. Woods currently coaches and teaches English at Wahpeton High School, but that's not the only place he's making a difference.  
  "What you put into your community is what you get out of it," he says. "That's the number one lesson Valley City taught me." This belief led Woods to run for Wahpeton's City Council, becoming the first African American to hold a seat as of June 2020. He also authors his own parenting blog and has served as a teacher and coach for hundreds of students since graduating from VCSU. 
  Woods' parents always encouraged him to "strive for the best," pushing him to go to college and represent himself well. He tried his best to do exactly that – playing football, running track, and studying English education. At VCSU, Woods' professors emphasized how much representation matters, everywhere.  
  "I've always wanted a doctorate," he says. "I don't see a lot of Black doctors in education in North Dakota. I needed it so my children and their friends, not just of color, but everyone, sees that here's this guy, happens to be Black, and that's Dr. Woods."  
  Woods graduated from VCSU in 2002 with a bachelor's degree in English education. He later earned his master's in education from VCSU in 2012 and then became Dr. Woods in December of 2020, completing his PhD in educational leadership from the University of North Dakota. These degrees, along with his council position, coaching activities, personal training, and non-profit involvement, mark some of the highlights of Woods' career since his days at VCSU.  
Cory Anderson, now the director of development and major gifts at VCSU, then the offensive coordinator who directly oversaw Woods on the football field, isn't surprised by his achievements.  
  "He's taken everything on headfirst, just like he did when he was on the football field," Anderson says. "He'll create his own role if there isn't one there for him. He's somebody that the whole Valley City community and the campus can be proud of."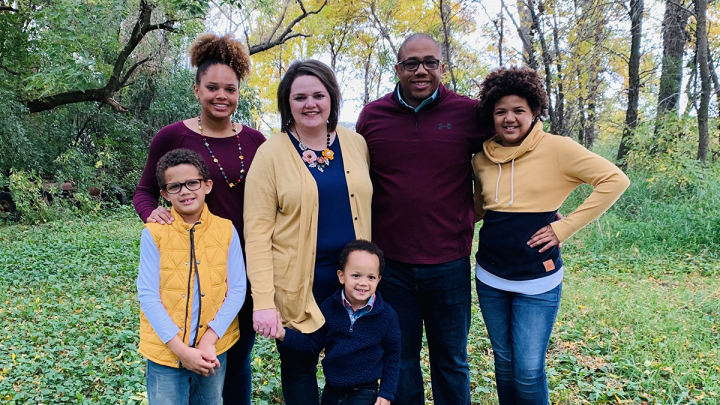 Alongside his professional achievements, Woods considers becoming a father one of his greatest joys. Woods and his wife Heather – also a VCSU alumni and fellow English teacher at Wahpeton High School – met while working together at the VCSU student newspaper. Together, they've raised four children, Scout, 13, Claire, 10, Trey, 7, and Reese, 4. Woods suspects his kids will also be busy, as his girls both play basketball and Trey begins soccer.  
Woods' own athletic career came to a climax as a running back at VCSU, but in his last year of high school he wasn't sure he'd even play in college. He injured himself during the first practice of his senior season and worried he'd derailed his chance at playing college football.  
"Because I got injured, the offers went away," he says, "but Coach Mac (VCSU head coach Dennis McCulloch) was hounding me, and he called at the right time."  
Thanks to the determination of the VCSU coaching staff, Woods committed to VCSU site unseen.  
Once he arrived, things weren't exactly easy. The culture shock was hard to overcome. During high school, with his class of 500 students at a school of over 2,000, Woods had grown used to playing for larger crowds. He'd also grown used to playing inside during the winter months, which wasn't the case at Valley City State. During his freshman year at VCSU, the football team went 0-10, not winning a single game.  
Then, tragedy struck. Four VCSU students, Woods' teammates on the football team, died in a car accident on January 17, 1999. The entire university went into mourning. "That was really the last straw," Woods says. "I pretty much decided Valley probably wasn't the place for me."  
It would have taken a miracle to convince him to stay. That miracle came in the form of his teammates and now lifelong friends, Mark Rerick, Brent Miller, Darin Walters and Steve Battle.  
The four Vikings worked to persuade their friend, promising the team would not only be strong, but successful, if he stayed. Battle suggested they give it one more season and dedicate it to the four lost in the crash. Reluctantly, Woods agreed.  
That decision proved to be the right one. Woods scored a total of 19 touchdowns during the 2000 and 2001 football seasons, helping the Vikings to an 18-4 record, a conference title and two national playoff berths. Both those teams were inducted into the Vikings Hall of Fame in 2017.  
These successes proved something to Woods. "Everyone has that Division I dream, they see it on TV or whatever, but a lot of good things happen in other divisions, outside of Division I. You can go to Division I, never play, or go to NAIA, play all 4 years, and be the big man on campus. NAIA has more of that community side, while if you don't produce in upper Division I level, you're forgotten."  
Aside from football at VCSU, Woods came to know more about the community. Cultural adjustments like waving when a car drove by, instead of fearing a drive-by, came easier to him. He excelled in the classroom as well as on the field. Professors like Dave Bass, who Woods called a mentor to him and many others in the education department, were influences on his education career.   
"I think many people on campus didn't know about David's commitment to academic achievement until they had him in class," said Bass. "He became more extroverted, more communicative when he entered the classroom." 
Woods' takeaways from college aren't only limited to athletics and academics. He acted as Marcellus in the theater department's production of Hamlet, participated in Mr. VCSU, and joined the student newspaper. It was there, in the Viking Newsroom, he met his future wife Heather Schmit. 
Woods hopes everyone feels the same community sense of support as he felt at VCSU and uses it to thrive. "It's a place where if you wanted to create something, you're going to get the support to create it," he says. "It's a place where you can create a community and do whatever you want to improve it."  
At VCSU, Woods developed connections with people who became part of a lifelong group of friends. At VCSU, he became involved with student-run organizations that broadened his interests. At VCSU, he had staff and faculty to lean on while he earned his first degree. Woods is a true believer – and a living example – that whether it's personal, professional, or educational, success can be found at VCSU.