Gratia Brown, M.F.A.
Assistant Professor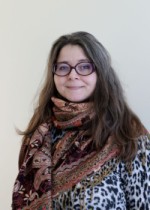 Department
Art
Office Location
Gratia loves to make things, break things, and create pieces that celebrate fragments and debris's poetic nature. She earned her Master of Fine Arts in Ceramics from Edinboro University of Pennsylvania and her Bachelor of Arts in the History of Art & Architecture and Anthropology from the University of Pittsburgh. She is currently an Assistant Professor of Art at Valley City State University (ND), where she teaches ceramics, sculpture, art methods, and art history. She will participate in the Studio Paducah artist residency program in the summer of 2021.
Exhibitions and honors include Ancient Alchemy at the Washington Pavilion (SD),  Part and Parcel, a 2010 NCECA Conference Concurrent Exhibition, and the 4th UNICUM Ceramics Triennial at the National Museum of Slovenia where her work received a Recognition Award. Her work recently received 2nd place in the Visions in Clay exhibit at the LH Horton Jr Gallery (CA).
She has been awarded scholarships and assistantships at Haystack Mountain School of Craft (ME), Penland School of Craft (NC), and Arrowmont School of Art and Craft (TN). Residencies include The Hungarian Multicultural Center, Budapest, Hungary, I-Park (CT), Watershed Center for Ceramic Arts (ME), The Ceramics Center (IA), University of North Dakota (ND), and Northern State University (SD).