News
Faculty members Burr, Russell and VanHorn present at BbWorld 20 conference
Aug 10, 2020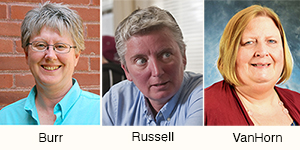 VCSU faculty members Diane Burr, Julee Russell and Shannon VanHorn presented at the BbWorld 20 conference on July 21. The annual conference for members of the Blackboard community, this year's conference was themed "Galaxy of Learning: Blast Off to the Future of Education."
Burr, Russell and VanHorn's session — "Universal Access: It's the Right Thing To Do, But We Don't Know How" — garnered 40 conference participants.
This session described and demonstrated VCSU's ongoing journey toward achieving common design and accessibility with a focus on courses in the online environment. The presentation included identification of stakeholders and an examination of the beginnings of accessibility and design awareness on campus.
Also included in the discussion was the notion that faculty recognize the need and the benefits of universal access, but that time, energy, expertise, training, assistance, and one-on-one help present barriers. Burr, Russell and VanHorn indicated that faculty support remains a key component of their work on the issue.
Burr serves as professor and chair of the VCSU Department of Kinesiology and Human Performance, Russell is professor and chair of the Language and Literature Department, and VanHorn is a professor in the Communication Arts Department.