President's Desk
President's Column: Finals week, commencement preparations, and spring athletics
May 3, 2022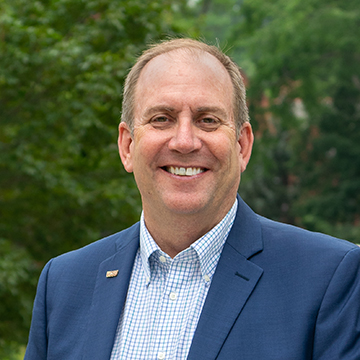 Greetings from Valley City State University!
We are fully engaged in the final stretch of the 2021-2022 academic year. A plethora of activities fill the calendar for the next two weeks including finals week, commencement preparations, and end of spring athletic seasons.
I'd like to begin my comments today with profound thanks to our faculty, staff, students, and community members for their resilience, flexibility, patience, and support during the past week as preparations for the recent flood event impacted all. With the recent crest of the Sheyenne River at 18.09 feet, we are immensely grateful for the permanent flood protection which allowed campus operations to proceed largely uninterrupted. Our facilities services staff, along with several other campus volunteers, have been serving as drivers for our shuttles from the Bubble to the Student Center from 7 a.m. – 5 p.m. for the past week in response to limited parking availability on campus. City and county leadership, employees, and first responders have displayed outstanding commitment to keeping the community safe, and the cooperation of all entities has been well-coordinated and mutually supportive.
This past Friday, April 29, 2022, we were fortunate to be able to hold our annual VCSU Scholarship Auction at the Valley City Eagle's Club. This sold-out event is a social highlight for many – including VCSU faculty and staff, alumni, friends, and community members. The proceeds from the event provide support for student scholarships, and this year's 80's themed gala did not disappoint! Thank you to all who participated in the silent auction, live auction, and meal. In total, more than $114,000 was raised for scholarships. Many students assisted in the set-up and auction, and as greeters and helpers throughout the evening. It was a wonderful and enjoyable evening to bring folks together to support a worthy cause – student success! Special thanks to our event sponsor, Dacotah Bank, and our entire foundation office staff for their excellent work in organizing another successful auction!
The past two weeks have also included some important "road" time for several of us. Sheldon Greywater, from our enrollment services office, and I made a trip to Kulm and Fairmount to recognize two of our five McCready Scholarship Winners. Additionally, Dr. Jim Boe, Dean of Graduate Studies, Bridget Blunck, enrollment services, and I made personal visits to local high schools to visit with students, teachers and administrators participating in our high school dual credit program. Schools visited included Barnes County North HS, Valley City HS, Central Cass HS, and Northern Cass HS. Upcoming visits are scheduled with Kindred, Oak Grove, and Lisbon High Schools. We appreciate the partnerships we have with all our high school dual credit schools and look forward to providing students with this outstanding opportunity of gaining a jump start on their university experience.
We encourage you to visit our website and join us for some of the exciting end of semester activities happening at VCSU.
Go Vikings!