President's Desk
Greetings from Valley City State University!
May 10, 2021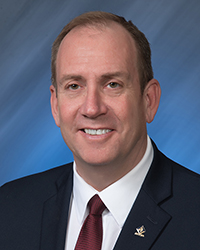 Greetings from Valley City State University!
Public service is often a thankless job. Now that the 2021 legislative session is complete, let's all take the time to thank those who represent us and make decisions that will help shape the success and future of our communities and state.
Our latest issue of The Bulletin featured two VCSU alumni who have been serving in leadership roles this past session. The following article shares a few details on each of these and I hope you enjoy reading about their recollections of time spent in Valley City and at VCSU.
Two Valley City State University alumni are holding leadership positions in the current session of the North Dakota Legislature. Joan (Leichtman) Heckaman '67 is the Senate Minority Leader while Chet Pollert '77 is the House Majority Leader. The two both credit their years at Valley City State University for helping prepare them for the many demands of their respective positions.
Pollert has served in the House of Representatives since 1999 while Heckaman has served in the North Dakota Senate since 2006. They have both held roles on different legislative committees during their tenure.
Heckaman has served on the Administrative Rules Committee; Budget Section; Information Technology Committee; and Legislative Management. Pollert has served on the Budget Section; Legislative Management; and Human Services.
Rep. Pollert noted that his experience as a small business owner helped him prepare for the legislature. Going back home after each session, he could see first-hand how his decisions impacted the constituents in his district. As House Majority Leader, Pollert noted that one of the biggest challenges is creating a consensus within the caucus and having a vision everyone can share for a common goal. Another big challenge is balancing your time between work, family and being a legislator. Pollert is also quick to point out the tremendous learning experience that the legislature provides.
At VCSU, Pollert remembers his time in the Sigma Nu Fraternity and living in Robertson Hall. He made many life-long friends at Valley City State and was appreciative of the one-on-one relationships with faculty and the low student-to-faculty ratios. Pollert stresses the benefits of a college education, encouraging everyone to consider attending a higher education institution. "The experience helps you mature, and you soon realize that your successes and failures are your own," he said. "You learn independence."
At VCSU, Pollert majored in business administration and minored in economics and political science. He and his wife Jo have three grown children. They recently sold their business in New Rockford – G&R Grain &Feed – and currently reside in Carrington, N.D. Chet and Jo are members of Trinity Lutheran Church.
Senator Heckaman has many memories of her days at Valley City State. She recalls basketball games at the "Bubble", ping pong in the game room, Homecoming festivities and having professors who enjoyed teaching. As a kid, she attended a one-room rural school but her fears of going to college soon disappeared when she found the faculty and staff so helpful at Valley City State. She was a member of the Viking Marching Band, under Dr. Loren Waa, and the Atheneum Society. Heckaman is a firm believer that alumni need to be ambassadors for their alma mater, and she encourages others to tell the story of their experiences at their university and why their alma mater is so special. In her words, "VCSU is such a "close knit" school and alumni are often recognized wearing VCSU clothing." She is proud of having attended VCSU and takes her responsibility as an alumna seriously.
Sen. Heckaman is a retired educator, graduating from Valley City State with one of the university's signature teaching degrees. She is the first woman to serve as Senate Minority Leader in the state of North Dakota. Joan and her husband Dewey currently reside in New Rockford, N.D. She has been recognized as the North Dakota Early Childhood Advocate (2013); North Dakota Career and Technical Education Legislator of the Year (2015); and the North Dakota Autism Spectrum Legislator of the Year (2015). Sen. Heckaman is quick to point out the great working relationship she has with Senate Majority Leader Rich Wardner of Dickinson, and House Majority Leader Chet Pollert. Joan and Dewey are members of First Lutheran Church. They have four grown children and 10 grandchildren.
Larry Robinson, a former longtime State Senator representing District 24, and Executive Director of University Advancement at VCSU, believes Rep. Pollert and Sen. Heckaman have served their districts with distinction. "To be elevated to a leadership position by your caucus speaks volumes of the respect you have earned from your peers," Robinson said. "During my time in the legislature, I have enjoyed working with both of them. They are professionals and passionate about their district and our state."
Go Vikings!