President's Desk
Hub of activity!
May 24, 2021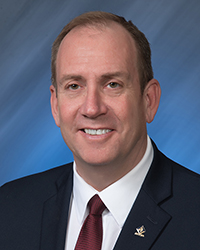 Greetings from Valley City State University!
The end of the year activities are winding down, and the beautiful campus is a much quieter place this week. Students have checked out of the residence halls, and following commencement and submission of final grades, we are on to a summer of planning, organizational work and efforts to complete several projects on campus.
On May 3 our campus, athletes and coaches celebrated the successful year of competition with an athletic banquet held outdoors at Lokken Stadium. Athletic Director Jill Devries presented awards to students for their achievements during the past year which was capped off with a video compilation assembled by Mark Potts highlighting all of our teams. I'm thankful that our student-athletes had the opportunities to continue with their contests during this past year.  COVID certainly created obstacles along the way, but they persevered and found a way to be successful. We wish to thank the Athletic Boosters for providing and serving the meal prior to the awards ceremony.
The following week we held a special senior awards recognition ceremony for all of our seniors. Each department presented awards to the graduating seniors based upon the academic and research successes they've had during this past year. It was a tremendous event – emceed by Dr. Erin Klingenberg, Interim Dean of Student Affairs – and involved several faculty and department chairs. This event truly exemplifies student excellence and the wonderful opportunities they have had for collaboration with faculty leading to academic success.
Finally, we were very pleased to celebrate our commencement exercises May 15 with an in-person ceremony! This marked the one hundred and twenty-ninth commencement exercise at VCSU. A total of 278 students received their bachelor's degree and 36 were awarded their master's degree. Remarks were made by Mr. Nick Hacker, Chair of the North Dakota State Board of Higher Education. Ms. Peyton Halverson, an accomplished student and athlete, provided the undergraduate reflection, and Dr. Kevin Murphy, Associate Professor of Mathematics, gave the faculty reflection.
Commencement is a time to recognize the completion of an important time in the lives of our students, but also the beginning of their next chapter. It was especially gratifying to have so many family members and friends join in the excitement of the day – and a picture-perfect day it was! Many of our graduates were lined up to take a commemorative photo next to or in front of the new VCSU sign on the front lawn. We welcome you to take a walk on the picturesque campus in the late spring and summer days ahead and wish you all a relaxing, safe and enjoyable summer!
Go Vikings!