Alumni Profiles
Joe Wright
Jun 22, 2022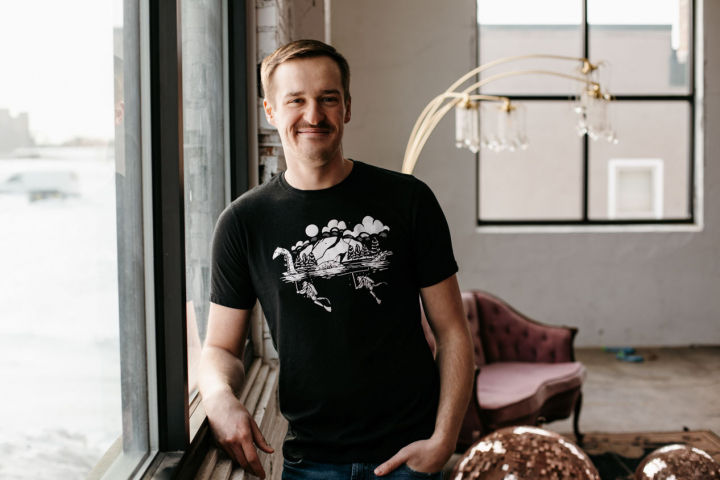 Joe Wright always had a passion for becoming an entrepreneur, although at a young age he wasn't quite sure what that word meant. Now the VCSU grad operates both of his businesses out of a two bedroom apartment and uses his communication degree in every aspect of his work.
Tell us a little bit about yourself .
My name is Joe Wright, I graduated from VCSU in the summer of 2017 with a degree in professional communication and a minor in music. I was born and raised in North Dakota and am currently living in West Fargo, while operating my two businesses out of a two-bedroom apartment. 
Tell us about the development of Wright Foot.
Looking back to my younger years, I had always wanted to start some type of business but never really knew what, nor did I know the term "entrepreneur". While at VCSU, I started wearing fun socks and posted about them on my social media channels. It became my "thing". Finally, everything clicked in 2019 when I realized I could just start my own sock business. It took me a while to come up with the name for my business. I thought of maybe calling it "Monkey Toe" along with some other names that just never grabbed me. One morning I woke up and I realized my last name was absolutely perfect. 
At the beginning of Wright Foot, I sold socks that my manufacturer had in their catalog, they were either plain pattern socks or very generic images. So to set myself apart from other sock companies, I gave them funny names. I then slowly started incorporating my own ideas for socks building off the funny names. That is when the puns really started to take life. My first true Wright Foot sock was "Otter Space". I finally got to the point where I was only selling my original ideas. That transition took about a year and a half. I believe that the puns and the plays on words is what really sets me apart from all other sock companies. I also think that having a niche is important so you don't get lost in all the other businesses that are doing something similar to you. You have to be able to stand out. 
Archive came about in a completely different way. A few months into Wright Foot I thought it would be cool to start a t-shirt business but thankfully I held off. Starting another business while Wright Foot was in its early years would have been a terrible decision. I also didn't have a clear vision of what I wanted that t-shirt business to be. While building Wright Foot, I have been coming up with other design ideas that really wouldn't work for socks. The idea was either too detailed or it demanded a bigger canvas to tell the whole story. This is where Archive started. With Archive I want every t-shirt to tell a story, whether that be making up my own story or story from history. Each collection has a theme, such as Debunked, Heists, and many more. My first collection, Debunked, pulls the curtain back on some of history's most legendary myths. The Lochness Monster, Bigfoot, and Aliens. The shirts show that these legends are actually just two dudes with too much time on their hands. 
Tell us what it is like to own your own business.
I am grateful to be able to run my own businesses. It can be a double-edged sword but I wouldn't trade it for the world. There are days that it is pretty tough, it is all on you to make sales, come up with new designs and keep the business going. However it is you that is in control. You make what you put into it. If you take a few days off, your business isn't growing. I like to look at it as "You are paid what you are worth". In a regular job, you can put in a ton of effort or not as much and get paid the same amount. When running your own business you could make a ton of money one day and nothing the next. Everyday you have to do something that will benefit your business in the future. Most of the time those little things like sending one email or posting one thing on social media that can bring a return that is beyond what you could ever imagine. It's putting in the work everyday, building upon it and just creating momentum. 
How did VCSU help prepare you for your career?
VCSU definitely helped me prepare for running my own business. I have used my communications degree everyday with Wright Foot and Archive. From posting on social media, building my website, and building relationships with my direct-to-consumer customers as well as my wholesale accounts. 
At VCSU, there are so many opportunities to get involved. I was a part of many organizations while at VCSU such as; VCAB, Viking Ambassadors, Homecoming Co-Chair, as well as being an RA. Within these organizations, there were plenty of chances to be a leader. With VCAB, I was fortunate enough to serve as the president for two and a half years. Planning activities helped me to build my organizational skills, which are very much needed while running your own businesses. VCSU gave me so many chances to challenge myself and really grow as a person. I wouldn't trade my time at VCSU for the world. 
What are you most proud of in your business?
I am most proud of the connections I have made with people. Seeing the smiles and hearing people laugh at the puns/play on words is the best part of the job. Whenever I see someone wearing my socks or shirts, it is pretty surreal. Wright Foot didn't exist three years ago. Now it has customers and fans all over the world. I really enjoy making people laugh and now I get to do that for a living. I am grateful for that every single day. 
If you were to write a letter of advice to future students it would start, "Dear Vikings…" What would the rest of the letter read?
Dear Vikings,
Take advantage of what all VCSU has to offer. It is the perfect time to try new things, join a club or just find out more about yourself. VCSU has a culture that really inspires you to grow as a person. It gives you the confidence to do so without the fear of failure. Everyone else there is doing the same types of things. The support you get is out of this world. VCSU challenges you to grow and learn, not only in the classroom but as a person as well.