Alumni & Friends
Kadie Anderson
Feb 22, 2021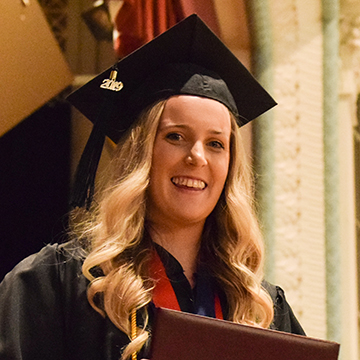 When did you graduate from VCSU?
I graduated in 2019. 
Where are you currently working?
I'm a 9–12th grade math teacher at Linton High School. 
What made you choose VCSU?
I chose to attend VCSU because I liked the smaller campus. I also enjoyed how friendly everyone on campus was. It truly felt like a second home.  
What do you think prospective students should know about VCSU? 
I would encourage any student to attend VCSU because the people are amazing. People on campus care about you and celebrate accomplishments, even small ones. You truly have an opportunity to become a difference maker on campus. 
How did VCSU assist you in getting ready for your current job? 
VCSU helped prepare me as an educator, especially in these times, because I can use technology in a different way. VCSU helped teach me a variety of different teaching methods that I can use to differentiate my classroom to help students with different needs.   
What was the best takeaway from your years at VCSU?
The most valuable part of my time at VCSU were the relationships I made. My former classmates and I keep in touch about different work-related problems and help each other come up with solutions or just to check in with how things are going.