Alumni & Friends
McCarthy Hall: The past and future of Teacher Education
Aug 9, 2023
Built as a place for college students to take their first steps as teachers, McCarthy Hall has shaped the future of thousands. It stands on the precipice of change with an imminent remodeling project that reinforces its true mission – to serve as a space for foundational education.
---
At first glance, McCarthy Hall stands at the edge of VCSU's campus with dignified and purposeful presence. Upon closer inspection, the smooth sculptures adorning the stairway and shining terrazzo floors tell the story of a well-loved space built for activity and inspiration. 
This space, has remained in use, but mostly unaltered for almost 100 years. Now, McCarthy Hall is on the precipice of transformation. 
In the early 1930s, the North Dakota Legislature used $115,000 to construct the Training School, now known as McCarthy Hall. This year, that same body approved $11.5 million to renovate the building. In total, the project will cost $13.5 million, the remaining portion being raised through generous supporters. 
The renovation will breathe life into this historic space, but the story of this building was never about the bricks. The real story is told by those who remember the inspiring leadership of the College High School Principal, Thilda Vangstad '29, or those who met the love of their life in one of the assembly rooms during study hall. This is a place that shaped people for life. Individuals that went on to shape the lives of others. 
This is a space where teachers presented their first lesson, or conducted their first band rehearsal. This is where students saw first-hand how the care and attention from a kind teacher could transform a lifetime. This is the story of McCarthy Hall and the future home of VCSU's School of Education. 
A place to call home

Jay Cink's early life was literally surrounded by VCSU. As a child, his family ran the long- gone grocery store that used to sit where the Memorial Student Center is currently. When he was old enough for school, he loved the sandbox and rocking horse in the kindergarten room just down the hall from the university president's office. Cink's first job outside of the family store was washing uniforms for the college's athletic director Bill Osmon. 
The relationship between VCSU and the training school also meant Osmon was Cink's junior high gym teacher. College faculty were a part of the fabric of College High. They guided student teachers attending VCSU as they took their first step as teachers with real students like Cink.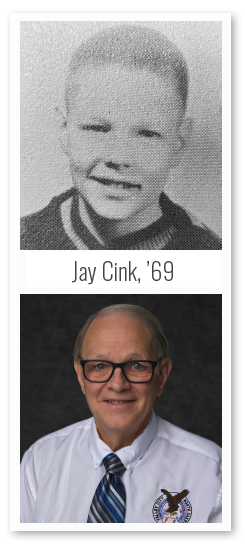 "We had a great education. Some of the student teachers were fabulous," Cink said. If the teacher in training was not a good fit for the classroom, "you only had to put up with them for 11 or 12 weeks," he added. 
Although the student teachers were numerous and varied in skill, the long-term faculty and staff at the school crafted a place in McCarthy Hall that felt like home for many.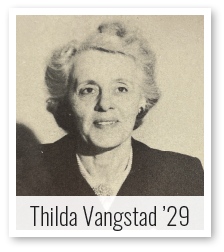 Teachers like Roger Ludwig and many more were inspired by Thilda Vangstad who "commanded respect, but didn't demand it." This inspiration pushed Cink to pursue a degree in education at VCSU. When he started as a college student, he found himself in familiar spaces like the first floor of McCarthy for technology class. He was also a step ahead of other students as he had the opportunity to take college courses as a junior and senior in high school, some of the first versions of popular dual credit offerings now offered. 
Although he never became a teacher, Cink is one of the few who attended school on campus from Kindergarten through his undergraduate degree. He is thrilled the upcoming renovation will improve a space that was home for so many of his foundational experiences. 
He keeps a photo of the vision for the remodeled space in his office at home, reminding him of the exciting future ahead for his old high school. 
From function to the future
The renderings show the exterior of the building mostly unchanged, but the interior will completely transform. "The new spaces in McCarthy Hall will offer classrooms where students can prepare to be teachers of the future," Dean of the School of Education Allen Burgad, '89, said.
"I had the opportunity to take courses like psychology and education in McCarthy 257 in 1987 and 1988," Burgad said. "When I interviewed at VCSU in 2022, the classroom had not changed." 
The renovation project will take the classroom from a row-centered, teacher-centered model, to the style of classroom now found in most elementary, middle and high schools. A style that focuses on education and peer collaboration. 
"The spaces will be comfortable and represent what elementary and secondary classrooms look like now," Burgad said. "Having collaborative spaces and learning centers allows peers to interact and the educational experience is much richer when there is dialogue." 
"Our purpose is to design McCarthy very similar to what an elementary middle and high school classroom would look like," he said. 
Almost 100 years ago when McCarthy Hall was first built, it was also designed to mirror a typical classroom. It was three stories with 11 large classrooms and two large assembly rooms according to the school newspaper The Budget. There was a small theater on the first floor for "demonstration classes" and the space was more than enough to accommodate the 22 faculty supervisors working with teacher candidates. 
The building first opened in 1931 and offered a unique experience for pupils. In the summer of 1963, College High School's Superintendent H. O. Pearce sent a newsletter stating the State Board of Higher Education asked to close the school in the spring of 1965. 
The building remained, but the halls were quieter. Eventually the VCSU Technology Department and, for a time, the Art Department moved in. Plans for a new home for the School of Education began to take shape and VCSU launched the first capital campaign in the history of the school in 2021. Part of that campaign brought the McCarthy Hall renovation to life. This spring, 60 years after the newsletter from Superintendent Pierce was sent, the same board that closed College High approved money for its renovation for the future. 
Breathing life into a historic place

Virginia Mohr Svenningsen is excited about the plans to renovate her old high school. 
"This is such a beautiful building," she said walking down the hallway with her husband and classmate John. 
Both John and Virginia graduated in the last class of College High. 
"I was so afraid that like other places, this could get knocked down and there goes the history. I'm really excited about the renovation and what it's going to be when it's done." 
For Virginia, removing the old army-green metal lockers makes sense. During her time attending College High they were necessary because books were numerous, and heavy. 
"Now there is a computer in every back pack, not a bunch of books," she said smiling. 
Despite their absence, Virginia knows exactly where her locker used to line the 3rd floor hallway in McCarthy Hall. Her locker was only a few away from a farm boy who had just started attending College High. 
"I was his tour guide on his first day," she said. The two sat near each other during assemblies and study hall in the large classroom on the east side of the building. They eventually married, had a family and farmed near Valley City. 
"It was a really unique experience," she said of attending College High, "because we were small and very close." 
The pair were a part of the final graduating class from College High, which closed in 1965. Now, more than 50 years after graduation, both John and Virginia say the care and kindness from long-term faculty like Thilda Vangstad '29 and Lillian Langemo Jacobson '40 shaped their lives. They were witness to dozens of new teachers testing their abilities in the classroom for the first time. 
The function of the school was always clear, to learn and help new teachers gain experience. That process created a close community. For example, Virginia remembers having a young college student named George Gaukler, '62, as a student teacher. The year after, John met Gaukler as a first-year math teacher at the rural school he attended before coming to College High. That young teacher went on to become a successful businessman and is chair to VCSU's current capital campaign. 
Transforming into a teacher
The number of student teachers who taught their first class in McCarthy Hall is difficult to count, but Carol Skogen Meyers '68 learned from many of them. Carol attended elementary, high school and college on campus as did her brother Luther Skogen '68. Although her family lived out of town, her mother insisted they attend the training school.
"We had excellent teachers," Meyers said. Having numerous student teachers from the college gave her class experience in teacher evaluation. "We always knew within a day, which student teachers were going to be a good teacher." 
After Meyers moved from elementary in McFarland Hall "across the bridge" into McCarthy Hall, she felt the school pride and a sense of belonging that existed for the College High Baby Vikings. 
One of the classes she took regularly was band. At times, the band instructor or student teacher would be late. Meyers would pick up the baton and "get the band going." This practice would be a part of much of her professional life. 
After she graduated in 1964, Meyers returned to VCSU and finished her composite music degree, thus beginning a long career of shaping hundreds of music students in rural North Dakota. From Finley to Page, Hunter and Arthur, Meyers taught K-12 music for years, retiring from Northern Cass Public School in 2004. She remembers many of her students, including one of her trumpet players, Doug Burgum, who eventually went on to become governor of North Dakota. 
Even though she didn't realize it at the time, Meyers said her time in high school and college experience must have influenced her classroom management style and approach to teaching. 
"All my students were special and that connection made teaching so special," she said. "It was special and rewarding." 
Meyers learned that from Dr. Loren Waa, her band director at VCSU. Throughout her career she saw other VCSU music graduates in the field of education. 
Expanding the legacy of VCSU
One of Meyers classmates, Larry Wicks '66, also pursued a career in education after his time attending the training school, College High and VCSU.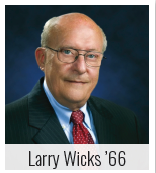 He started at College High in 7th grade and at one time, counted up the number of student teachers he learned from. Sixty-seven was the final total. 
Instruction was, at times, delivered in smaller class sizes because there were multiple student teachers who needed experience. This was a benefit of attending College High. 
After graduation, Wicks attended VCSU and became an educator in Minnesota before becoming active in the Minnesota Education Association. Throughout his profession he saw how College High was similar physically to other schools built in the 1930s, but had the benefit of a close connection with college faculty and student teachers doing the instruction. 
"It was similar, but unique," he said. 
Wicks went on to work in education-related roles with various organizations, and eventually retired as the Executive Director of the Ohio Education Association in 2013. 
Wicks is excited to see how the renovation of McCarthy hall expands the legacy of VCSU as an institution. He recalled walking through McCarthy Hall after College High closed and feeling a sense that the space could be used for much more. 
"I think this renovation is terrific," he said. "It makes a lot of sense." 
Providing limitless opportunity
2022 graduate Keaton Kvilvang agrees. Kvilvang's family includes many VCSU graduates and his grandfather Curt Kvilvang attended College High.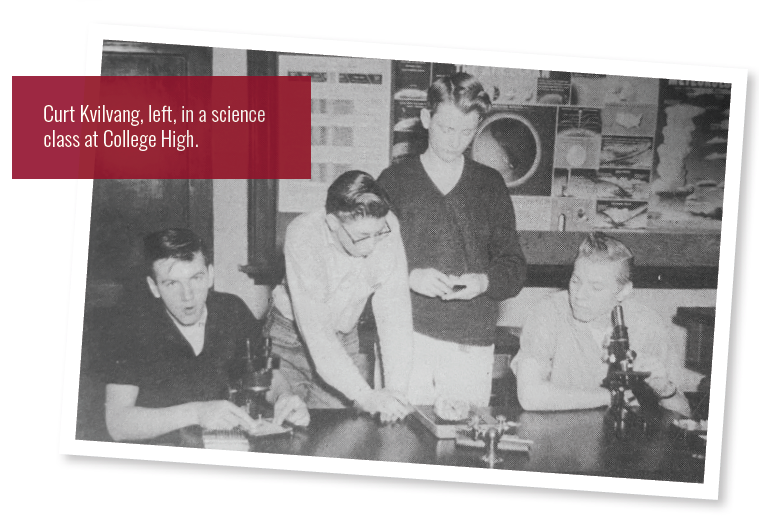 As a freshman, Kvilvang took a psychology class in McCarthy Hall and described the classroom as having a "rustic, traditional" feel. 
"It was interesting to see the differences between some of the more modern classrooms and these traditional classrooms on campus," he said. 
While the classrooms have not changed a great deal since his grandfather attended College High, Keaton Kvilvang said having a modern environment for learning will enhance the overall experience for students. 
"Surely the old look and feel will be missed, but having a modern environment for students to not only receive lecture, but to find a quiet place on campus for studying and reading will provide limitless opportunities," he said.