Academics
Meet Graduate Angeline Gannon
May 8, 2023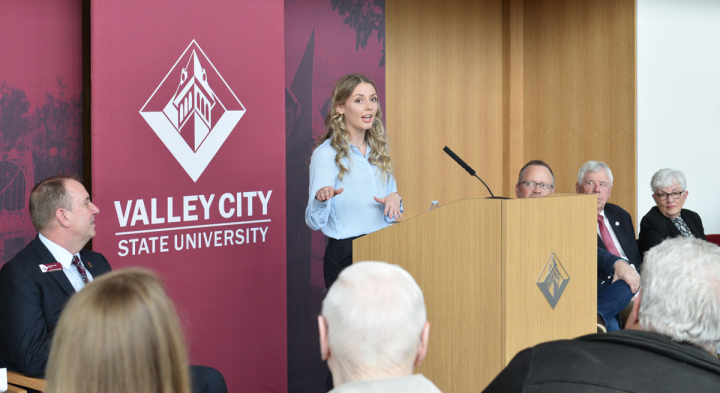 When Angeline Gannon was in sixth grade, she wrote a letter to her future self. She received the letter the day she graduated from high school and realized her sixth grade self had a vision for the future.
"'You want to be a teacher when you grow up,' was the message," Gannon said. It resonated. From that point, Gannon was committed to Valley City State University to pursue a career as an educator.
During her time as a Viking, she did more than just pursue an education. Gannon was notably involved in multiple clubs, sports, worked as a resident assistant and led multiple student efforts including homecoming and the Shatter the Silence walk. She served two years as student body president and helped support the effort to build the new Center for the Arts. Gannon was a part of the student athletic advisory council and on the board of student athletes. She was an active leader in Phi Alpha Theta, the history club on campus.
Gannon's time on campus was also marked by the COVID-19 pandemic. As a resident assistant, she was asked to become the coordinator for a semester helping ensure students who became ill or quarantined were cared for.
"That was rewarding in a different way," she explained. Rewarding is one of the adjectives Gannon used to describe her experience at VCSU, and is also one of the reasons she recommends it to those interested in attending college.
"Being at VCSU, you will develop strong relationships with your professors if you take the time to do it. There are people who genuinely care about you and want you to succeed," she said.
Now, as a VCSU graduate Gannon is preparing to embark on her career as a social studies at teacher Gale-Ettrick-Trempealeau High School in Galesville, Wis. She credits the class size and campus environment for contributing to her success.
"With a small class size it's much easier to make friends and do group work together," she explained. "The small class size helps socially. In high school I was not this outgoing. I never would've imagined what I could do in college."
Gannon will be the student speaker at Spring Commencement at 10 a.m., Saturday, May 13, at the W.E. Osmon Fieldhouse in Valley City.