President's Desk
Off to a Great Start
Aug 2, 2021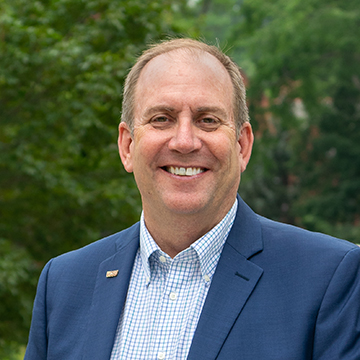 Last month we were proud to officially launch the Forward Together campaign. Seeing this effort take flight this summer has been inspiring. I would like to share a few of the highlights that have happened since the campaign officially launched.
On July 21, we hosted numerous friends and supporters at the W.E. Osmon Fieldhouse to celebrate the official beginning of the campaign. We were thankful for the presence of many friendly faces, including Valley City Mayor Dave Carlsrud and the Director of Development for the Valley City Barnes County Development Corporation Jennifer Feist.
Their comments about our community and the campaign as an important part of our future really rang true. The Forward Together campaign is truly about moving our entire community forward through high-quality educational experiences.
We also had the chance to recognize those who have already made generous commitments to support the campaign. People like Ray Braun, who committed a $1 million for the effort, and Dacotah Bank for their $500,000. We also recognized BEK Communications for their strong support. We were happy to have Paige Bjornson of Dacotah Bank join us for the event, as well as Brett Stroh of BEK Communications.
Their willingness to provide pacesetting support is both humbling and invigorating. This effort is worthy of their support and seeing their commitment on paper is where our dreams become reality.
Our dream is to make the first-ever capital campaign for VCSU successful. That success will be a big step for our campus, and a huge step for students. Future VCSU students will have access to scholarship opportunities created by the campaign, and high-quality educational spaces and athletic facilities.
Our visionary athletic director, Jill Devries, said it best during the Campaign Kickoff event, "As we embark on this historic campaign, we seize a unique opportunity to inspire the next generation of VCSU Vikings by building championship level facilities, a strong scholarship base, state-of-the-art learning environments, and strong community and regional partnerships."
I wholeheartedly agree. This campaign will shape our future and we are so appreciative of the generous support during this initial stage. If you would like to learn more or see what the facilities will look like once it's complete, I encourage you to visit our website VCSU.edu/forwardtogether.
Thank you for supporting our efforts to provide for enhanced student success and educate the leaders of tomorrow.
Go Vikings!