President's Desk
President's Column: A Flurry of Activity
Mar 28, 2023
Greetings from VCSU!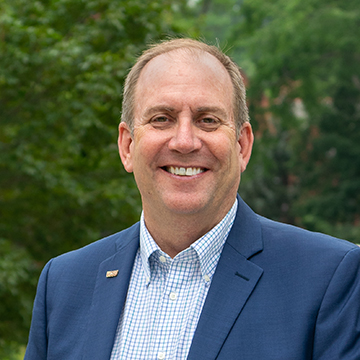 When one looks outside, it's hard to imagine we are soon to be welcoming the month of April, but here we are in the final stretch of the Spring 2023 semester!
With about six weeks left until spring commencement, there is much regular and important work still happening on campus. Faculty and students are preparing for end of the semester projects and finals. Student athletes are hoping to find indoor or warmer weather locations to be able to hold contests for their sports. The Higher Learning Commission just finished their annual meeting in Chicago, Viking Visit Days are in full swing, and the NAIA National Convention is being held March 31 to April 3.
Last Friday, I had the pleasure of welcoming approximately 35 potential VCSU students at one of our Viking Visit Days. It's always a pleasure meeting with prospective students and their families. We sincerely appreciate their interest in VCSU as the next important step in their studies and career preparation. We gathered in the Center for the Arts Performance Hall and the excitement was evident. Our story is compelling and convincing. The many external validations of quality and affordability from U.S. News rankings, Study.com, EdSmart.com, OnlineU, Intelligent.com and Wallet Hub continue to substantiate the outstanding opportunities available at VCSU.
Later that day I traveled to Bismarck to attend the performance of our VCSU Percussion Ensemble at the North Dakota Music Educator's Conference at the Bismarck Events Center. I was so proud of the students and their director, Dustin Mallory, assistant professor of music. They represented VCSU and the music department exceedingly well and many positive comments have been received on their performance. Most of the VCSU music faculty were present, along with a large contingent of student members of the National Association for Music Education. It was a proud moment to see the strong representation of VCSU at this event.
Speaking of pride in student success, I hope you had the opportunity to read or hear about the outstanding success story on Hadlee Mathias, a senior at Valley City High School. She was recently recognized for completing 41 credits of high school dual credit coursework, the most completed thus far from the VCSU dual credit program, which equates to approximately three completed semesters of college coursework! This program provides such an outstanding opportunity for students to get a jump start into their undergraduate degree. We are even more pleased to know she will be continuing her education at VCSU to become a teacher. Congratulations, Hadlee!
Two other noteworthy events occurred at the State Capitol in Bismarck last week. First, several VCSU students, faculty and staff attended Higher Education Day during the annual Legislative Showcase featuring campuses from across North Dakota. The VCSU delegation included students; Matthew Mills, Dahlia Diegel and Taylene Mendiola. They were accompanied by staff and faculty members; Mitchell Silkman, Jerilyn Beckman, Tammy Jo Taft, Angela Mirscov, and Dr. James Boe. They braved some challenging travel conditions to represent VCSU. Additionally, I'd like to extend thanks to Dr. David DeMuth for organizing the undergraduate research showcase at the Capitol on Friday, March 24. This event brought undergraduate students and faculty research advisors together for a poster presentation representing the NDUS system. Dr. DeMuth has provided outstanding service to the SBHE Research and Governance Council for several years and his guidance and collaborative style is appreciated by the entire NDUS system.
If you are looking for opportunities to visit campus and see the results of student work, the High School Art Exhibit is up through the end of the month and the Percussion Ensemble Concert will be held on Thursday, April 6 at 7:30 p.m. in the Center for the Arts. Both events are free and the public is invited to attend!
Finally, additional testimony will be provided to the Senate Appropriations Education and Environment division committee on Wednesday, March 27. We will be present in Bismarck to address questions from the committee on our budget request for the next biennium.
Go Vikings!