President's Desk
President's Column: Accreditation and Collaboration
Oct 24, 2022
Greetings from Valley City State University!
In my most recent column, I addressed some of the successes and innovations in our School of Education. Today, I'd like to share some thanks and recognition pertaining to our recent accreditation site visit and continued collaboration with the Valley City Public Schools and regional partners.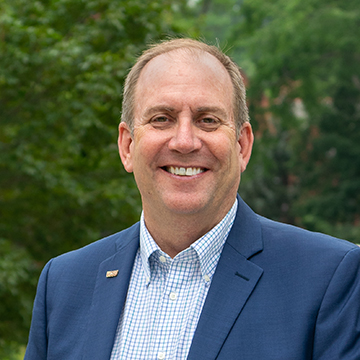 The Council for the Accreditation of Educator Preparation (CAEP) is the national organization responsible for ensuring education programs and standards meet established benchmarks of excellence. Our School of Education and Graduate Studies (SEGS) faculty and staff have been working diligently for many months in preparation for our site visit which occurred this past week. Those participating in the accreditation process included VCSU faculty, administration and staff, regional educators including teachers, principals, and superintendents, current VCSU teacher candidates and graduates of VCSU who completed our teacher education program.
In a message to all stakeholders, Dr. Al Olson, Professor/Assessment Coordinator, Dr. James Boe, Dean of Graduate Studies and Extended Learning, and Dr. Allen Burgad, Dean of the School of Education shared the information below:
The feedback from the CAEP visitation team was very positive. During our exit interview, the CAEP site chair provided a verbal summary from the interview panels and site visit. Areas that were highlighted included:
Valuable field experience for VCSU teacher candidates
Professors who are invested and supportive of all students
Timely feedback for students completing education coursework
Collaboration and cooperation among faculty and the education department
Vision and practice for continuous improvement
Commitment to establish strong PK-12 partnerships with schools
The words commitment and passion for preparing and supporting educators seemed to resonate throughout the process of our accreditation review. It is through reflection that our university recognized how many educators and community members throughout our region support the VCSU School of Education vision. This vision is to prepare future educators through a student-centered learning environment focused on relationships, social-emotional learning, and academic relevance. It is with sincere gratitude we thank all stakeholders instrumental in supporting future and current educators regionally and nationally.
While the final accreditation decision and communication with the campus won't happen until the spring semester, we are confident the result will be positive, and we thank all who participated in the process for your continuous investment, commitment, and collaboration in education and our teacher preparation program at Valley City State University.
Go Vikings!