President's Desk
President's Column: Campus updates
Mar 13, 2023
Student successes,  Senate Appropriations, Tech Wars, music events, track and field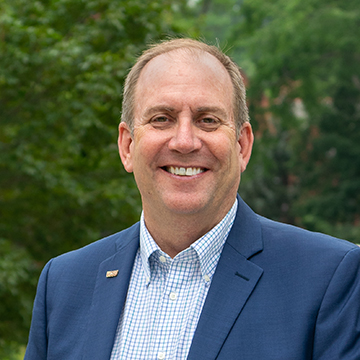 Greetings from Valley City State University!
The winter weather has not been loosening its grip as of late! Despite the continued longevity and persistence of this weather, the business and work of the institution continue.
On Wednesday, March 8 I was fortunate to represent VCSU in our Senate Appropriations presentation at the State Capitol in Bismarck. This budget request included affirmation of the NDUS needs based budget and items already passed by the House.
A significant part of HB 1003, which received approval on a 78-16 vote, includes $11.5 million in state funds to renovate McCarthy Hall to serve as the new location for our nationally known and recognized School of Education. This request is quite modest in comparison to facility requests from across the state, but would make a significant and positive impact on our ability to continue leading the state in preparing teachers and filling this important workforce need. Also providing compelling testimony in our hearing was Dr. Allen Burgad, Dean of the School of Education and Paige Fettig, VCSU alumna and 4th grade teacher at Miller Elementary School in Bismarck.
Later that evening, I attended a guest recital in the Center for the Arts Performance Hall featuring Norwegian pianist Oda Voltersvik. The program was entitled "Nordic Unrest" and included works of composers Edvard Grieg, Atli Heimir Sveinsoon, and Geir Tveitt. The recital had to be rescheduled from the previous week due to bad weather and road closures. Performer Voltersvik demonstrated a virtuosic command of the refurbished Steinway 9 foot grand piano in the beautiful setting of the new performance hall. The acoustics, combined with the performer's technical virtuosity and musical nuance, was an absolute delight. The appreciative audience was treated to a spectacular display of technique and musicality. Ten more musical performances and arts events are scheduled between March 10 and the end of the academic year. I invite and encourage the public to attend these free events to witness the talent of our VCSU student musicians and guest performers.
The prior weekend, March 3-4, featured the VCSU Choral and Solo Song Festival. This event brought several students from across N.D. to campus to participate in a choral and solo song festival format and featured culminating performances from the VCSU Concert Choir on Friday evening and festival final performance on Saturday.
Then on March 8 students from Dickinson, Edgeley, Montpelier, Griggs County Central and Central Cass traveled to campus for the annual Tech Wars event. A total of 9 teams participated and had 2 hours to complete a challenge where they designed a soccer game using Scratch, a high-level programming language. Faculty in the CSSE department judged the competition with first and second place going to two Dickinson teams and third place going to the Edgeley team.
Finally, congratulations are in order for two of our track and field athletes who represented VCSU and placed at the NAIA Indoor Track and Field National Championships in Brookings, S.D. earlier this month! Jaiden Peraza placed 12th in high jump and Taylor Sargent finished 29th in the 60-meter hurdles. Peraza – a freshman from Kindred, N.D. – cleared 2.01 meters (6 feet, 7 inches) in the high jump during his first appearance at nationals. He landed in a seven-way tie for 7th place but dropped to an official finish of 12th place on tiebreaker criteria (who cleared the height in fewer attempts). Sargent represented VCSU in the women's 60-meter hurdles where she placed 29th in the prelim heats. She ran a time of 9.05 seconds – the second-best time of her career – as she placed 6th in her heat. Her overall finish of 29th was three spots better than her pre-meet ranking. Congratulations to Jaiden and Taylor! We are proud of these outstanding student athletes.
Go Vikings!