President's Desk
President's Column: End-of-year activities and accolades
May 5, 2023
Greetings from Valley City State University!
It's hard to believe that this will be my final column for the 2022-2023 academic year. End-of-the-year concerts and events are nearly complete, recognition banquets are in full-swing, and students are amid final exam week. As this school year enters its waning days, we take time to recognize and congratulate students, staff and faculty for achievements, accolades and years of service. I'd like to take a moment to recognize just some of the outstanding accomplishments and end-of-the-semester activities.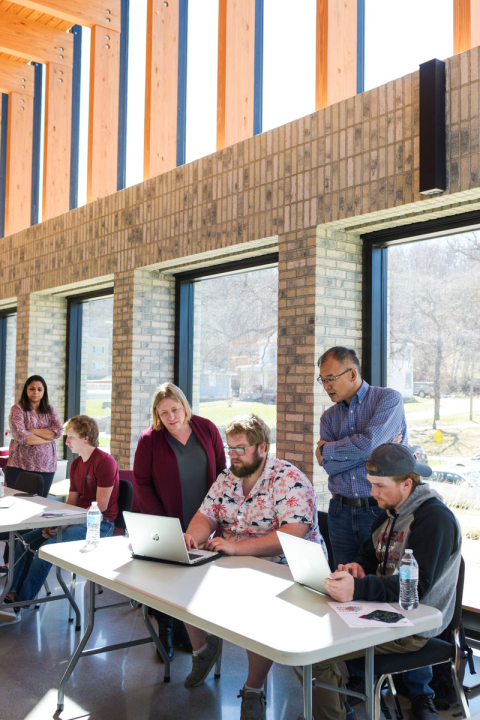 On Thursday, May 2, Valley City State University hosted the 2023 Scholar Symposium. After a three-year hiatus, students and faculty members, led by event coordinator and associate professor Emily Wicktor, showcased the research, writing, and other creative projects developed over the past academic year. More than 60 students participated and two recipients of the 2022-23 SOAR (Student Opportunities for Academic Research) Award – MaKenzee Stone and Alexa Walby formally presented their faculty-mentored advanced research projects. This event highlighted the substantial amount of research and scholarly activity occurring on our campus. Research is indeed alive and well at VCSU!
On Thursday, May 11 we will recognize retirements, years of service, Difference Maker, Staff Employee of the Quarter, degree and professional certification completion, tenure and promotion, Student Advocate of the Year, Teacher of the Year and faculty excellence award winners. More than 60 employees will be recognized at this event, representing more than 250 cumulative years of service!
Sixteen student-athletes have been recognized as All-Conference honorees at the conclusion of the spring sports seasons. In addition, our very own VCSU Trap Club earned first place at the North Dakota State Collegiate Clay Target Championship on April 29, in Jamestown! These 12 athletes are under the supervision of coach Nick Galt. Congratulations to all!
Finally, I'd like to recognize the 155 spring graduates who will be receiving their diplomas at our 2023 Spring Commencement ceremony on May 13 at 10 a.m. in the W.E. Osmon Fieldhouse. December 2022 graduates will also have the opportunity to walk and be recognized since our Winter Commencement was canceled due to inclement weather. This event is such a special time for our entire campus community. Family members, friends, faculty, staff and members of the community will be present to recognize and honor this outstanding achievement and milestone in the lives of our graduates. Mark Hagerott, North Dakota University System Chancellor, will deliver remarks along with Angeline Gannon, a December graduate from Bismarck, N.D., and Taylor Mounts, assistant professor of business and Student-Senate-selected Teacher of the Year. The pomp and circumstance and ceremonial aspect of this event is a fitting setting for the celebration of these graduates!
Finally, I'd like to thank and express deep gratitude to the community of Valley City and friends of VCSU for their support and participation in our annual spring auction held on April 28 at the Valley City Eagles Club. This fun-filled evening was certainly one to remember! Once final accounting is complete, we will be sure to give a full update on the success of the event.
Go Vikings!