President's Desk
President's Column: Welcome new faculty
Aug 22, 2023
Greetings from Valley City State University!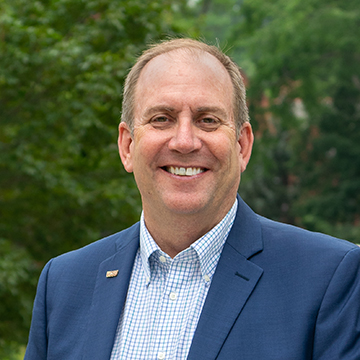 The beginning of a new semester is upon us. Having new faculty, staff and especially students join us on campus is one of the most exciting parts of this work. Last week I had the privilege of meeting with all of our faculty and staff during our annual Welcome Week breakfast. There was energy in the room and everyone was excited to start the new school year.
Each year we get the chance to welcome new faculty and staff to our campus and our community. This group of faculty members are committed to student success, and I am excited to see how they will mentor the next generation of leaders. They are highly qualified and ready to engage with students. I would like to share a little bit about each of them and hope you will help me welcome them with open arms into our community.
| | |
| --- | --- |
| | Cheryl Duvall is a new Assistant Professor in our Department of Business. Cheryl will be teaching Economics and Finance. She is a small business owner, mother, wife and grandma and enjoys all things rural. Cheryl earned her undergraduate degree and MBA from NDSU and was previously a program manager for the Center for Entrepreneurship. |
| | Staci Dreyer will be an Assistant Professor in the Department of Science. Staci graduated with a biology degree from Minnesota State University Moorhead and earned her Ph.D. from UND in 2021. She has researched medical entomology and parasitology, specifically regarding mosquito control. She loves animals and has an 11-year-old axolotl named Yoshi. She will be teaching courses including aquatic entomology and limnology. |
| | Lindsey Kiecker has been hired as a Special Appointment Lecturer in the Department of Science. Lindsey is a VCSU graduate with a degree in chemistry education and minor in physics. She is currently pursuing her master's degree in chemistry at South Dakota State University. She has worked with ND EPSCoR and served as a STEM Ambassador through the ND Space Grant Consortium. |
| | Dr. Katrina Clements will be our new Assistant Professor in music focusing on woodwinds. Dr. Clements comes to VCSU from Phoenix, AZ. She has a Doctor of Musical Arts degree from Arizona State University where she studied with world-renowned clarinetist Robert Spring. She has a Master's of Music from the University of Minnesota and a Bachelor's of Music Education from the University of New Mexico. |
| | Taylor Long will be joining the Department of Music as an Assistant Professor focusing on percussion. Taylor was previously based in New York and is a doctoral candidate at Stony Brook University. He has a Master's in Music from the University of Kansas and is active as a percussionist, sound artist and educator. |
| | Kewen Cheng will join our faculty as a new Assistant Professor in the Department of Music focusing on choral activities. Kewen is a doctoral student at NDSU and currently serving as a choral teaching assistant conducting the Concert Choir, University Chamber Singers, Madrigal Singers and cantemus. Kewen has a Master's of Music degree from NDSU. |
Please join me in welcoming our new faculty to the Valley City community. They will be busy as we start classes this week and get the semester off to a quick start.
Go Vikings!