President's Desk
President's Column
Jun 18, 2021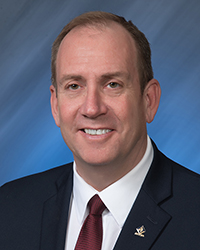 Greetings from Valley City State University,
Summer is a time for project completion, welcoming new employees to campus, and recognizing folks for achievements and honors.
I am happy to report that we've selected a new Dean for our School of Education to continue our legacy of inspiring teachers for North Dakota and beyond. Dr. Allen Burgad, a former VCSU student-athlete and alumnus, assumed his role in early June after previously serving as assistant superintendent for West Fargo Public Schools. We are lucky to have his expertise and happy that he has returned to VCSU.
Dr. Burgad will inherit a top-ranked elementary education program, according to rankings released by Study.com. VCSU leads the list of the Best Bachelor's in Elementary Education Degree Programs compiled at Study.com. The rankings list 50 schools nationwide, including several universities in the Midwest. I would like to thank Dr. James Boe for his exemplary leadership as Interim Dean during an unconventional year – his service to VCSU doesn't go unnoticed.
At last count, we have 1,438 alumni serving as licensed teachers, administrators and education professionals at 336 schools and education units in 157 North Dakota communities. The impact our teachers have is astounding. We are proud of our rich history of educating teachers.
Also deserving of recognition is VCSU's Dave Bass, assistant professor in the School of Education and Graduate Studies, who was recently named the 2021 North Star Athletic Association Faculty Athletics Representative (FAR) of the Year.
Bass has served as VCSU's FAR for more than 20 years, acting as a liaison between the athletic department and the institution as well as handling eligibility and academic questions. He was inducted into the VCSU Athletic Hall of Fame in 2017 for his many years of service to VCSU as a coach and FAR. Bass is also the NSAA eligibility chair and the FAR liaison to the NSAA Board of Directors.
Our talented and dedicated faculty are part of what makes VCSU what it is – a student-centered, exceptional university. We are happy to welcome Dr. Burgad as the new leader for our school of education and recognize Mr. Dave Bass for his student focused and legacy of leadership at VCSU.
Go Vikings!