President's Desk
Recognition, support and satisfaction…
Jun 7, 2021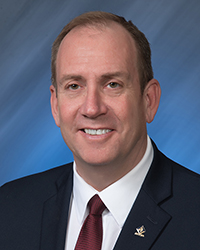 Our Viking family has had special moments for celebration during the past few weeks.
Recently, we gathered to recognize employees for years of service and special achievements at our annual employee recognition and retirement dinner. The evening was extra meaningful, as last year's event was cancelled due to COVID restrictions. This large-scale event was hosted at the Valley City Eagles Club on May 13, 2021, and it was a pleasure to celebrate these milestone achievements in person, together.
More than 115 individuals were recognized for various awards including Difference Makers, Staff Employees of the Quarter, Degree and Certificate Completions, Promotion and Tenure, Student Advocates, Teacher of the Year, Faculty Excellence, Retirements and Years of Service.  Those receiving recognition were responsible for an impressive 1,115 total years of service to VCSU!  The eight retirees, as a group, represented 209 years of service! Many of those honored were recognized by their colleagues and supervisors with heartfelt messages of thanks. We were pleased to be joined by so many family members and friends. Seeing the dedication of our faculty and staff was inspirational.
We also had the opportunity to celebrate another annual tradition on May 21, 2021 – the VCSU Scholarship Auction at the Eagles Club in Valley City. The success of the auction was tremendous, and resulted in the largest amount in auction history raised for student scholarships! We extend our deepest thanks to all who attended, donated items or services, participated in the silent auction, or participated by bidding and purchasing items in the live auction.
Finally, I'd like to share some results of a NDUS system-wide report on student satisfaction. The survey examined general satisfaction and COVID-era satisfaction among students from all eleven North Dakota institutions during the spring 2020 and 2021 semesters.
I'm happy to report that VCSU students reported the highest level, or tied for the highest level of satisfaction, in each category.
Students are our top priority. They must continue to be in order for us to be a successful university in the days and years ahead. We have outstanding faculty, staff, coaches and employees who are committed to student success and understand students are the reason we do this important work.
I hope you can find opportunities to spend time with family and friends during these warm summer days and, as always, welcome you to walk through the beautiful campus and appreciate the architecture and landscape!
Go Vikings!