President's Desk
Reflections on end of year activities
Jun 1, 2022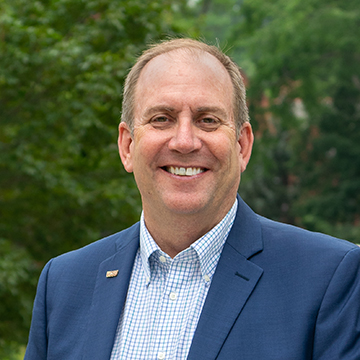 The end of the year flurry of activities have subsided, and our beautiful campus is a much quieter place this week. Students have checked out of the residence halls and following commencement and submission of final grades, we are on to a summer of planning, organizational work, and efforts to complete several projects on campus.
On May 9th our campus, athletes and coaches celebrated the successful year of competition with an athletic banquet held at the Valley City Eagle's Club. Athletic Director Jill DeVries presented awards to students for their achievements during the past year which culminated with a video compilation assembled by Mark Potts highlighting all our athletic teams. It was a wonderful opportunity to recognize individual and team achievements during the past academic year. We are proud of our student athletes and appreciate the value they add to our campus and community. We wish to thank the Athletic Boosters for their support throughout the year and sponsorship of the meal.
We honored the efforts and successes of our employees at our annual Employee Recognition Dinner held in the student cafeteria on May 12th. Employees were recognized for years of service, new certifications and degree completions, promotions, tenure, and retirements. Impressively, seven of our retirees have a combined 155 years of service to VCSU!  We thank and congratulate all for their contributions and dedication to the campus and community.
The following day, on May 13th, we held a special senior awards recognition ceremony for all our seniors. Each department presented awards to the graduating seniors based upon the academic and research successes they've had during this past year. It was a tremendous event, emceed by Dr. Erin Klingenberg, Vice President of Student Affairs, involving several faculty and department chairs. It was an impressive ceremony in the new Center for the Arts, recognizing the academic success and achievements of our graduating seniors. This event truly exemplifies student excellence and the numerous opportunities they have had for collaboration with faculty that led to academic success.
Finally, on May 14th, we were very pleased to celebrate our commencement exercises in the W.E. Osmon Fieldhouse. This marked the one hundred and thirtieth spring commencement exercise at VCSU. This academic year, we awarded 304 diplomas including 272 undergraduate degrees and 32 graduate degrees. Remarks were made by Mr. Jeffry Volk, member of the North Dakota State Board of Higher Education. Ms. Riley Perryman, an accomplished student and athlete provided the undergraduate reflection, and Mr. Dave Hanson, assistant professor of education and the 2022 Student Senate Teacher of the Year, gave the faculty reflection.
Commencement is a time to recognize the completion of an important time in the lives of our students, but also the beginning of their next chapter. An alumni greeting was given by Mr. Cory Anderson, Executive Director of the VCSU Foundation. It was especially gratifying to have so many family members and friends join in the excitement of the day – and a picture-perfect day it was! Some graduates travelled from great distances to attend – including students and family members from as far away as South Carolina and Mexico! The ceremony concluded with a final walk of the graduates through the assembled faculty and staff applauding the accomplishments of our students. This is one of my favorite moments of the year – giving students a final opportunity to take photos with friends, professors, coaches, and family members.
We welcome you to take a walk on the picturesque campus in the late spring and summer days ahead and wish you all a relaxing, safe, and enjoyable summer!