Alumni & Friends
The V-500 Rendezvous is Back and will Feature Yesterday – A Tribute to the Beatles
Nov 17, 2023
The Valley City State University Foundation is hosting the V-500 Rendezvous at 7:30 p.m., Dec. 1, at the Valley City Eagles Club. The event will feature Yesterday -The Beatles Tribute, a critically acclaimed Las Vegas show band.
Proceeds from the event will benefit the V-500 Scholarship Fund.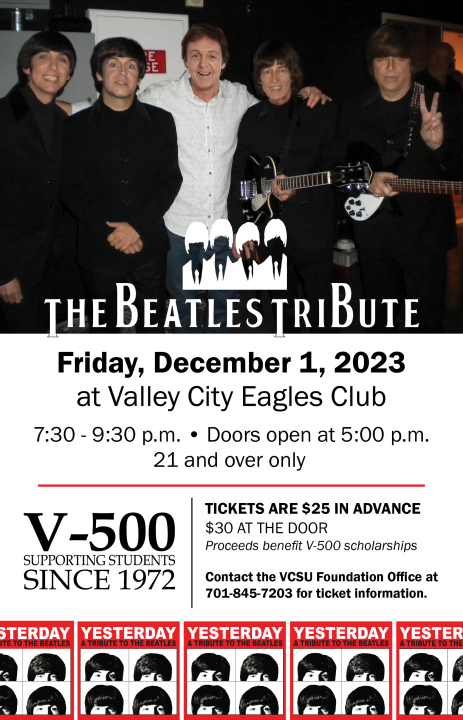 The band has performed around the world portraying musical icons, The Beatles, transporting its audience to a bygone era of magical innocence.
Featuring some of the most finely written songs ever performed, this production is a spellbinding enactment of the best-loved pop group in the history of modern music. A live and spirited journey of the revolutionary sounds introducing the first wave of British sounds to the American audience. The show includes authentic costumes and instruments, the band takes its audience on a magical tour to Liverpool's Cavern Club, the Ed Sullivan Show, Shea Stadium and beyond.
Doors will open at 5 p.m. Tickets are $25 and can be purchased in advance online at https://bit.ly/V500Beatles or at the VCSU Foundation Office by calling 701-845-7203.