News
Valley City State University offering Cardiographic Technician course
Dec 9, 2022
Valley City State University (VCSU) will offer an eight-week course for individuals interested in becoming certified Cardiographic Technicians.
The course, Allied Health 102, will begin Jan. 9, at VCSU, and is a hybrid online and in-person course. It will be taught by VCSU faculty and long-time area nurse and adjunct faculty member Alana McClellan.
After successful completion of the course, students will be prepared to take the Certified Cardiographic Technician (CCT) examination. The certification is required for individuals working as Cardiographic Technicians. These positions can include performing electrocardiograms (ECGs), heart-related monitoring, stress testing and ECG interpretation.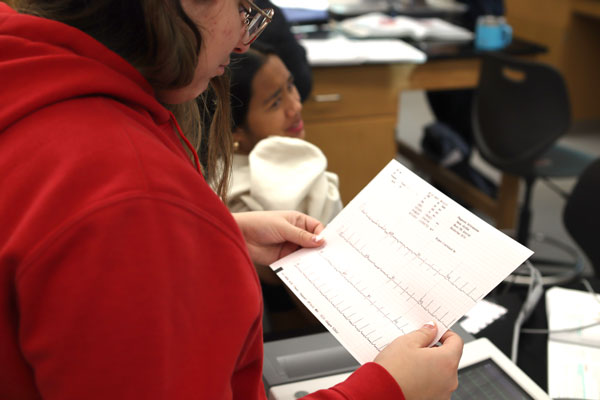 "There is a need for more individuals who are certified as Cardiographic Technicians locally and nationally," VCSU Vice President for Academic Affairs Larry Brooks said. "This course is being offered to help train more people to fill this critical workforce need."
The course will meet every Tuesday and Thursday from 5 p.m. to 5:50 p.m., with a pre-class meeting in early January to help students prepare. Course materials will cover basic function of the heart, interpreting ECG strips, identifying pathologies of the heart and preparation for the CCT exam.  The course will end on March 3.
"This course is a great example of productive partnerships," President Alan LaFave said. "Taking steps to meet this need for technicians is the result of years of partnership and support from the Valley City-Barnes County Development Corporation. We are grateful to have the VCBCDC and various employers in Valley City open doors with new career paths for students."
Individuals interested in taking this course must first apply to VCSU as a non-degree seeking student at apply.vcsu.edu. Once accepted, individuals should contact Dr. Hilde van Gijssel for more information at hilde.vangijssel@vcsu.edu or by calling 701-845-7337.
To schedule an interview about this course, contact Tammy Jo Anderson Taft by emailing tammyjo.taft@vcsu.edu or calling 701-845-7227.