Alumni & Friends
Valley City State University to Host Winter Commencement Dec. 15
Dec 6, 2022
103 Graduates to Receive Degrees
Valley City, ND – Valley City State University (VCSU) will host winter commencement ceremonies at 3:30 p.m., Thursday, Dec. 15, in Vangstad Auditorium.
More than 100 students will walk across the stage to receive their degrees. There will be 90 undergraduate degrees awarded including 54 Bachelor of Science in Education, 26 Bachelor of Science, two Bachelor of Arts, six Bachelor of University Studies, and two Associate of Arts.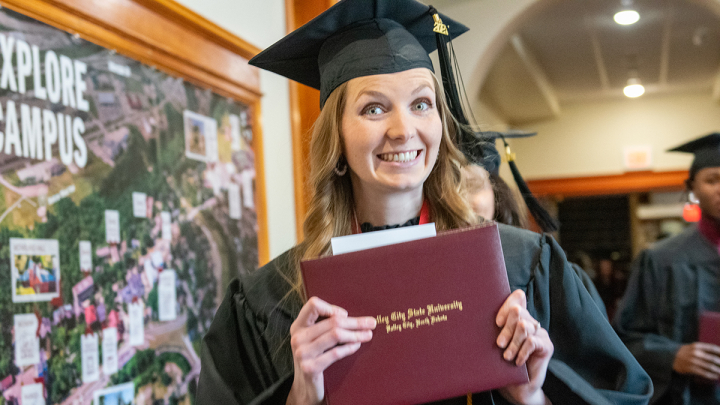 There will also be 13 Master's degrees awarded including 12 Master of Education degrees and one Master of Arts in Teaching degree.
"Our campus is proud of these graduates who have worked hard to reach this milestone. It has been a joy to get to know many of these students and see them grow into capable leaders," VCSU President Alan LaFave said. "We wish every graduate the best as they move into the world as alumni."
The ceremony is open to the public.
There will be several speakers during commencement including graduate Angeline Gannon, faculty member Susan Pfiefer, President Dr. Alan LaFave and State Board of Higher Education member Dr. John Warford.
The event will be live streamed on VCSU's YouTube channel: www.youtube.com/vcsuvikings. For more information visit VCSU's commencement page at: myweb.vcsu.edu/students/commencement/
To schedule an interview about commencement or other VCSU events, contact Tammy Jo Anderson Taft by emailing tammyjo.taft@vcsu.edu or calling 701-845-7227.