Alumni & Friends
VCSU Hosting In-Person Commencement on May 15
Apr 9, 2021
Valley City State University has announced plans to hold an in-person commencement ceremony on May 15, 2021.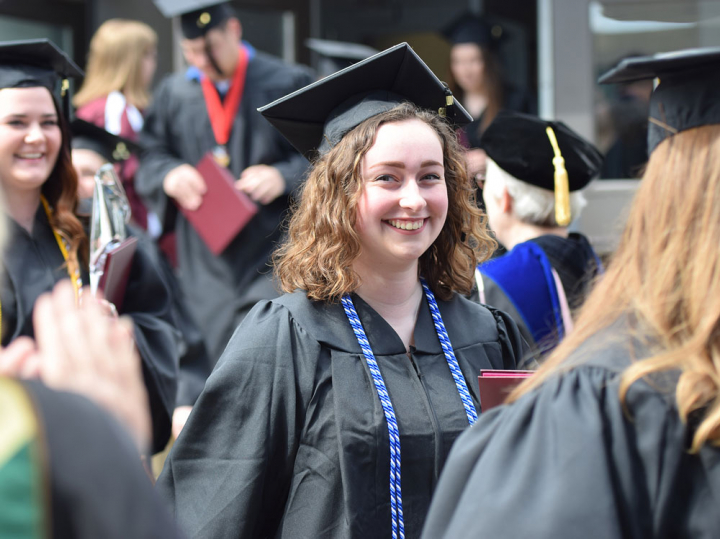 It is VCSU's first in-person commencement ceremony since December 2019. Both the May 2020 and December 2020 commencements were virtual events due to COVID-19 precautions.
"While we are still finalizing specific details, it is with great excitement that we announce we are planning for an in-person commencement ceremony," said VCSU President Alan LaFave. "With protective protocols in place, we are ready to honor our graduates with a traditional commencement."
VCSU's 2021 commencement is scheduled for 10 a.m. inside the W.E. Osmon Fieldhouse on Saturday, May 15.
Face coverings will be required for all attendees. Based on current protocols, graduating students may receive up to six tickets to distribute to family and friends who wish to attend. The event will also be live streamed on VCSU's Youtube channel: www.youtube.com/vcsuvikings
Graduating seniors and those finishing their Master of Education or Master of Arts degrees are eligible to participate. All graduates recognized at the Virtual Commencement Ceremonies in May 2020 and December 2020 are also invited back to participate in the face-to-face ceremony.
Graduates planning to participate in the ceremony must email kim.hesch@vcsu.edu to confirm their participation by April 15. For more information visit VCSU's commencement webpage.