News
VP Smithhisler named to the University Benchmark Project advisory board
Jul 15, 2020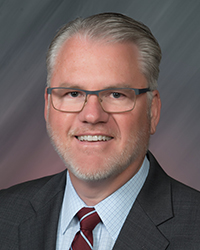 Pete Smithhisler, VCSU vice president for student affairs, has been appointed to the national advisory board for the University Benchmark Project (UBP) for the 2020-21 academic year.
UBP advisory board members are responsible for reviewing and evaluating unit metrics, marketing to peer institutions, and providing overall advisory support for the project. Smithhisler was selected to join the board because of his leadership in the field and his long-standing commitment to promoting the use of data for continuous institutional improvement.
The University of Wisconsin-Stout and the National Higher Education Benchmarking Institute have partnered to provide four-year institutions with unit-level data from comparator and aspirational peers, enabling members to identify strengths and opportunities for improvement. For information on UBP, visit universitybenchmarking.org.