Kenneth Jimenez, D.M.A.
Associate Professor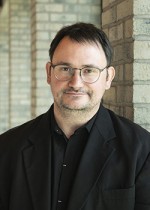 Department
Music
Office Location
Dr. Kenneth Jimenez is Assistant Professor of High Brass and Music History at Valley City State University. He teaches applied high brass lessons, directs the VCSU Jazz Ensemble, and teaches courses in musicology, music history, aural skills, and brass methods for music education majors. As an instructor, Dr. Jimenez enjoys working with students from a wide variety of backgrounds and focuses on helping students determine their own aspirations and become inquisitive, self-motivated learners.
In addition to teaching, Dr. Jimenez maintains an active schedule as a performing artist, including an ongoing collaboration with percussionist Dr. Nicholaus Meyers. Their recent recording of Meyers's composition Slightly Funky can be heard as the theme to the performing arts podcast Music Lives. Dr. Jimenez was also recently featured as a soloist with the University of Minnesota Morris Symphonic Wind Ensemble, performing Jukka Linkola's rarely-heard Tango-Tarantella for trumpet and wind ensemble. As a freelance musician Dr. Jimenez has performed with the Fargo-Moorhead Symphony, South Dakota Symphony, Greater Grand Forks Symphony, and the Bemidji Symphony. He has also performed with Fargo-based Post-Traumatic Funk Syndrome, Helena Handbasket, the Fargo-Moorhead Jass Festival Big Band, The El-Zagal Imperial Big Band, and currently performs in the Fargo-Moorhead Kicks Jazz Band. Previous performing engagements include the NDSU Faculty Brass Quintet, which was featured in a 2015 television broadcast entitled Prairie Musicians by Prairie Public Media. Dr. Jimenez has also performed in masterclasses for Tine Thing Helseth, Ingrid Jensen, Thomas Bacon, and the late Edward Kleinhammer, among others.